Dana and Jim Whitt built their five-bedroom 6,000-square-foot Colonial-style farmhouse some 17 years ago in rural Haymarket, where they happily raised their three sons. The youngest boy, Harrison, who is 15, still lives at home and attends the local high school.
"You can imagine the kitchen stood out like a sore thumb," says Dana Whitt, who recently updated several adjacent spaces, including a family room, with the help of D.C.-area interior decorator Erika Bonnell. "It was very outdated," continues Whitt. "It felt heavy, dark and cramped. I enjoy being in the kitchen and wanted it to be a nice space. I longed for something bright, airy and functional, something that worked well with the other fresh changes we'd made to the home and something that flowed better into the family room."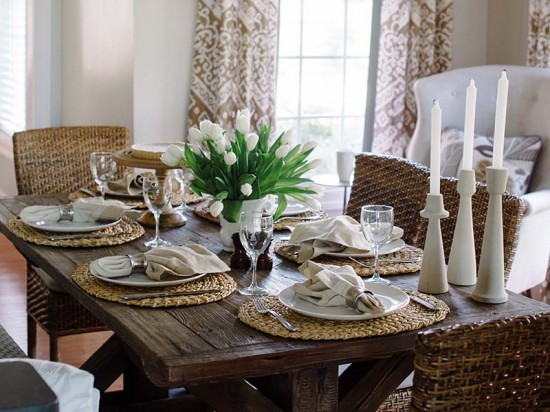 Formerly, the kitchen was connected to the family room via a narrow walk-through opening and an odd half-wall with lower cabinets; the latter contained a double sink and dishwasher that were set apart from the L-shaped cook and prep area. "There was a lot of wasted space in the kitchen's layout," Bonnell says, referring also to a drywalled corner pantry stuck between the stovetop and refrigerator and a hidden desk nook tucked behind a fake cabinet panel.
The kitchen also had that '80s/'90s French country vibe with cherry wood cabinetry, faux-painted stucco walls complete with brick-and-ivy trompe l'oeil designs, maroon swag valances and lots of rooster accessories. The aesthetics were definitely dated.
"A lot of the homes built during this timeframe are ready for an update and remodel. How we live has changed so much in the last 20-30 years. Life is much busier and fast-paced. You really want a kitchen that mentally helps you declutter," says Bonnell of the need to create a cleaner, more streamlined aesthetic when it comes to kitchen design. She adds, "The way we entertain is also completely different. No one has the time to spend all day prepping, whether for a casual meal or a dinner party. You just know you're going to be cooking when your guests arrive. I wanted to create a space for Dana where she could be part of the action when entertaining, while working in her kitchen."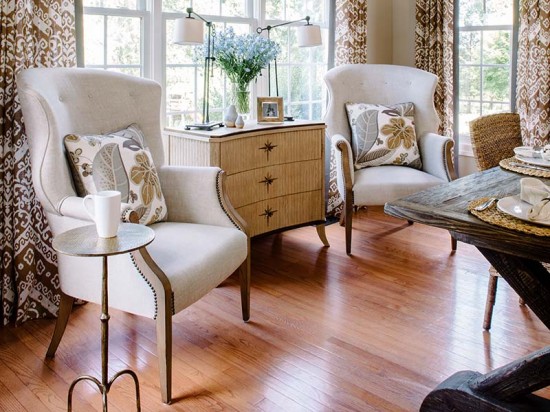 Though she spearheaded the aesthetic and lifestyle elements, Bonnell decided to bring in Metro-D.C. area kitchen designer Nadia Subaran of Aidan Design to help reconfigure the kitchen's layout and improve its functionality. One of the first things to go was the drywalled corner pantry.
"The elimination of that pantry and exposing that entire corner went a long way toward creating an open feeling in the kitchen," says Subaran, who also absorbed the hidden desk nook behind the fake cabinet panel and repurposed that area to make a more space-efficient pantry.
"We designed the new pantry next to the new Sub-Zero refrigerator and then matched their outer paneling. That was the best wall for the taller pieces," Subaran says. "What a transformation from what was there before."
Half-wall open shelving, holding cookbooks and decorative items, was added in the newly exposed corner, making it airier. In the closed cabinet just below, a kitchen corner unit with peanut-shaped shelves makes the most of the deep right-angled storage.
Along the adjacent longer wall, a Jenn-Air professional gas range with lower double ovens replaced the stovetop. This also meant that the prior double wall ovens could be eliminated—in their place is the new fridge. A dishwasher and double sink were also added to the redesigned island, which remains in the same location as the old one and previously contained a seldom-used small bar sink.
"The relationship between all the major appliances—fridge, oven, dishwasher—works much better now because there's also ample countertop and storage space between the pieces," Subaran says.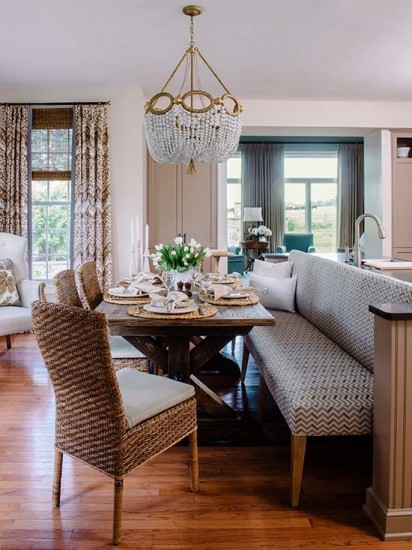 One of Whitt's biggest peeves was the lack of a flowing connection between the kitchen and family room. "I was often isolated and cooped up in the kitchen, whether home with my family or entertaining friends," she adds. There is a large stone patio off the family room that overlooks green fields and is where the Whitts host parties in the warmer months.
"I do love a combined kitchen and family room whenever possible," Bonnell says. "You can be in the kitchen yet be a part of everything that's going on around you," she continues, referring to the important decision to reconfigure the narrow walkthrough opening and half-wall with lower cabinets that previously poorly connected the kitchen and family room.
The half-wall, sink and all, was dispensed with altogether. Meanwhile, the narrow opening was relocated to a central position and enlarged. Then two tall built-in cupboards were designed on either side of the enhanced opening, creating stylish symmetry while optimizing storage. They were finished in a warm neutral color that matches the base of the redesigned island. The latter also houses a microwave drawer—the prior one was mounted above the old stove—and holds a custom-configured niche for a backed bench in place of bar chairs.
"Before, we used to have bar stools pulling up to the island and a separate eat-in dining table and chairs," recalls Whitt. "When the kids were little, all three of them had a designated bar chair. It was easier to make breakfast for them like that and get them ready for school, but they're grown up now, with two of them having moved out. That arrangement simply didn't make sense anymore."
Subaran says: "In any case, the bay area was too shallow in depth for adequate seating and comfortable flow around the dining table. That was one of the problems when the original breakfast table was in that space."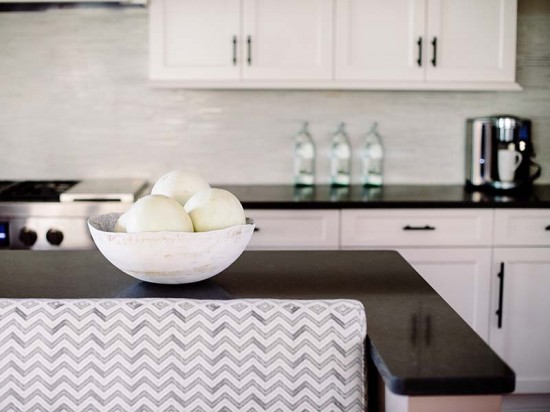 This decision provided Bonnell with a great opportunity to flex her design chops. The bay area became a beautiful sitting room area, unorthodox yet perfect for the space. Then, in addition to a bench upholstered in stain-resistant Crypton fabric backing into a niche in the back of the island, Bonnell also brought in some densely textured woven rush chairs and a rustic X-based table.
"The design choices I made were to tie the clean, modern look to the rural setting. I did this through a combination of rich textures and interesting finishes to give a warm, farmhouse-y feel but in a fresh, updated way," adds Bonnell.
Thus the simple Shaker-style off-white cabinets, the deeper hued tall cabinets and island base are paired with oil-rubbed bronze hardware and rich brown-toned Caesarstone countertops. To contrast with the darker counters, the kitchen's backsplash is a light mosaic in thin strips of reflective marble.
"One of my favorite things in the kitchen is the sitting area that Erika created with the armchairs," Whitt says. "I like to sit there and read the papers in the morning, or Jim will sit there and have a glass of wine while I'm cooking at night. If a girlfriend comes over, we'll usually sit there and have a cup of tea or coffee."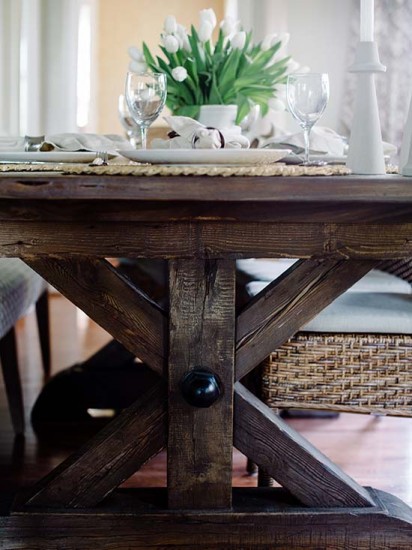 Bonnell treated the space in a deliberately non-kitchen fashion, furnishing it with a pair of tufted armchairs upholstered in creamy Belgian linen, as well as with an inverted bowed chest of drawers topped with double iron-based reading lamps. She also added sweeping floor-to-ceiling, tape-trimmed curtains to the bay's windows.
"They add such a sense of coziness and interest," says Bonnell of her decision to go all out with full window treatments. "Sometimes kitchens lack that balance of hardness and softness," she says. "The nook became an intimate area with more of a living room than kitchen quality and a place to add these gorgeous draperies."
he fabric of the curtains was another opportunity to inject pattern, as were the custom-made crewel pillows. Bonnell also added rustic woven blinds for privacy or to help with glare as needed. The window treatments hang on walnut-stained rods with brass caps.
"I'm a fan of metal-mixing," Bonnell says of using oil-rubbed bronze and stainless steel, brass and gilt finishes. "It's how I blend and balance selections."
It's also how she enlivened the kitchen's quiet neutral color palette of cream, wheat and gray hues. But perhaps the biggest statement in the kitchen is the oversized beaded chandelier, which is a wow feature.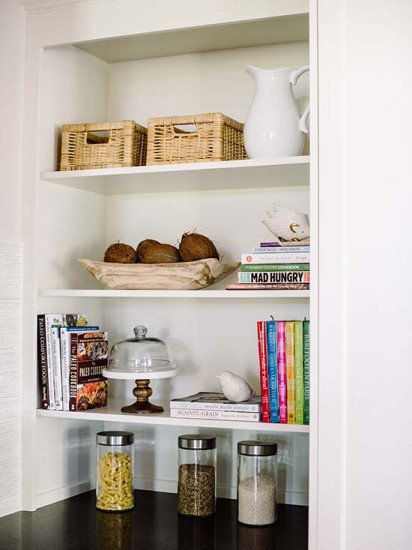 "Now when you enter the kitchen your eye doesn't go to a million places," Bonnell says. "It's very soothing, a balance of cool and warm, sophisticated and rustic. We wanted to upgrade the kitchen and give it modern influences but stay true to the location and setting of the home."
"I love being in my kitchen now when everyone is home in the early evening," Dana Whitt says. "I'll prepare food while my son does his homework at the dining table and my husband watches TV in the family room. We're all together, even though everyone is doing their own thing."