It depends on the household, experts say, but a home's intelligence hub can be a DIY zone or a more elaborately organized system to keep track of incoming and outgoing snail mail, parent to-do lists and bills to pay.
Even in this digital age, it can be overwhelming to manage the amount of paper that enters the home. From handling junk mail to bills and everything in between, local organizers say the trick is to create a system that works and tweak if necessary.
One basic step can be a real timesaver: ensure easy access to your home's shredder and your recycle bin and visit them often.
"Typically, when I suggest a command center, there is a busy household," says Kim Oser, professional member director of National Association of Professional Organizers and a local organizer. "There is a sort of drop zone—a mudroom, a kitchen counter—with backpacks and permission slips and extra shoes and athletic apparel, where everything gets dropped, and periodically, when that area gets cleaned up, you find old things that have been missed."
With clients, Oser says, that prompts a conversation of: "Let's create one center where everything can be dropped, but let's do it in an organized way so that it doesn't become a mishmash of everything." 
From employing previously unused wall space to house oversized chalkboards or whiteboard calendars and color-coded folders to a more basic desktop file box, tools exist to keep track of daily life.
Oser says command centers really do run the size gamut from wall pockets that serve as in- and out-boxes to elaborate built-in locker systems, but big or small, they serve the same purpose: to help you take control of all the paper that enters your home and learn to manage it.
First, bring in the mail every day and take stock of the stack. 
Stop at the recycle bin and toss in any unwanted circulars then hit the shredder to zap unsolicited credit card offers and the like.
At that point, all you're left with is actionable items, and that's a whole lot easier to manage, says Oser. Place bills in a To Pay folder and magazines and catalogs in the To Read spot. Consider smartphone apps like PaperKarma to snap a photo and get your name removed from distribution lists.
For the space near the household calendars, organizer Bonnie Riley offers these tips: She always incorporates a list of emergency contacts and a charging station to power up phones, tablets and computers. Choose chargers with USB ports to save space and keep them there to eliminate the hunt for a charge.
Then get down to business. "I find that Sunday night is the time when there's the least amount of extracurricular activities," Oser says. "Families are together then, the kids are finishing up homework, and people are settling down and getting ready for the week. That's an excellent time to sit down and say, 'OK, what's going on this week?'"
That time allows parents to connect with kids about the week's activities, to note doctor's appointments, sign permission slips, think about test preparation and due dates and get those items on the calendar.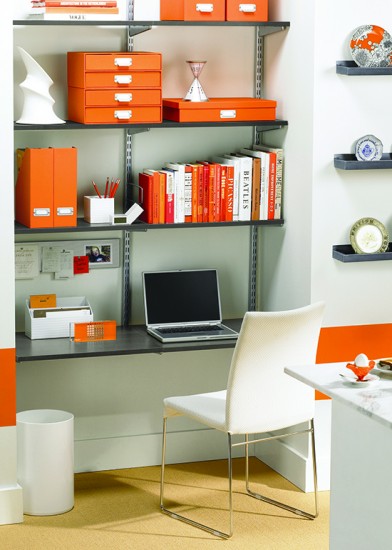 Organizers agree parents should use calendars and the planning process to teach children time management. Children should be part of the planning and learn to check their calendars and inboxes regularly.
Make sure wall calendars and slotted folders are age-appropriate in both placement and use. Let kids personalize their own folders with drawings and stickers—it just might make them more eager to check inside. Because chalkboard or whiteboard calendars could fall victim to scribbles, organizer Diana Tamez-Walters suggests hanging a kid-height play version so little ones don't feel left out.
For households where doodling is unlikely, dry-erase boards with pens in a specific color for each family member work wonders. A favorite tip from Tamez-Walters: Be sure the calendar includes a key explaining what color corresponds to whom in case grandma or grandpa has to step in.
Keep in mind chalkboard and whiteboard calendars can be fun and tailored to a home's decor while providing a backdrop for family reminders.
Older children and parents can go digital and share their appointments with web-based Google calendars and iCalendars across all platforms. Here, too, items can be color-coded by individual, by task. They can be posted as one-time or recurring events. Set alerts and reminders so a notification pops up on your phone that SAT prep class is in 30 minutes or it's time to start practicing violin.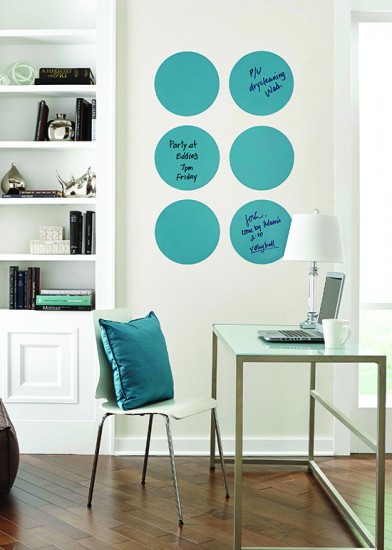 Command centers aren't just for busy families. Having important information at your fingertips—and not having to waste time looking for things—is efficient for any household. When it comes to dealing with receipts, organizers recommend shredding most of them (check against your credit card statement first) or snapping a smartphone picture and filing them in a folder on the computer or in an app like Evernote, which organizes anything and everything you want to save.
But back to paper: Designate a folder for big purchases and drop relevant receipts in there. Keep tax data for the past year in a folder—you'll have to sort it by the following April anyway, says Riley. Place warranties and how-to manuals in a folder or binder.
Start small, organizers say. When she's helping clients become more organized, Riley tells them: "Stick to it for a month. Then we can talk about it and see what we have to change. It may be hard initially, but then they really start to see the benefits."
Soon, they're responding to invitations, remembering to pay bills and recycling junk mail.
They've let go of that energy it takes to try to find things, says Riley. And that's a real relief because, she says, "It's exhausting!"