Caryn Cramer is the creative Einstein behind her business of the same name–a textile and home product design business. Her style recalls trips around the world and is full of rich colors and interesting textures, and she was willing to share her insights about D.C., style and how to decorate for the holidays.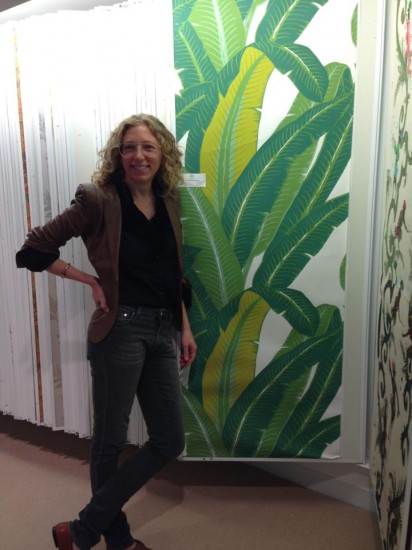 Q: Tell me about your background. How did you come to be a designer?
A: I've always been an artist–a painter, a dancer–but I've also got a lot of other training that I think relates to what I do now. I have a master's degree in postmodern philosophy, a law degree, as well as my masters in interior design, and I think all these diverse perspectives help the concept development process.  Every project needs that much meta-level thought, and doing a thorough concept makes all aspects of the final product better–whether architectural spacial volumes + space planning or the surfaces, finishes and materials choices.
Q: What do you love about working here in D.C.?
A: I love how historic our city is and that it's compact and walkable. It's very Jane Jacobs; a healthy mixed-use kind of place. In terms of the people, they're fantastically intellectual, something I probably identify with, and I bring it to my design work too. I like to think that D.C. is also not so much a trend-based place; it's a place that has history and interests and a lot of international sensibilities. And there's such a vibrancy to that.
Q: On your days off what kind of things do you love doing in the city?
A: I love going to art museums–I went to the Ai Weiwei and the Lichtenstein exhibits just last week, and I also frequently indulge in what I call "urban hikes," aimless wanderings through neighborhoods. I have a DuPont Farmers Market obsession. And I'm a total foodie, so you'll find me out at a restaurant frequently.
Q: It often takes years for a person to develop and refine their personal style. What was this process for you and how would you describe your style?
A: I lived in Copenhagen for a while–I just moved back from there a little over a year ago. between living abroad and travelling throughout the US and overseas, I think my style tends to incorporate these other geographies, mindsets, cultures + colors–there's always something a little indigenous or tribal or "other" to my taste. And I love contrasts between places, time periods, history, and material textures; I like the relationship of things in a space that are a little bit opposite or just totally unrelated from one-another. They get you thinking. Objects do relate to one another when in a space–things you wouldn't expect to–and they create a story. That dialogue between objects is the kind of environment that inspires me.
Q: What's an example of this that you've done recently?
A: With my clients, every aspect of the design is about them–who they are, how they live. It's not about me at all. So for some recent clients in Falls Church, what I uncovered is that the husband has this lovely old-world European sensibility about him. So we chose to lay their wood floor in a herringbone pattern, which is something you find quite often in buildings in Europe–a Parisian or London flat. We did the couple's floor to capture his spirits and sensibilities, and then the wife has a fantastic artistic side to her that's fresh and modern–rather whimsical. To bring her qualities into the space we used very modern Danish pendants over the island and lots of tactile + unexpected materials, such as Lyptus wood cabinets and yellow leather cabinet pulls–all things that brought her spunkiness into the home.  I love how, even just in the architectural details like flooring and millwork and material choices, you can see both [sides] of the couple.
Q: Many people dread getting up to go to work in the morning. What makes your job worthwhile and enjoyable to you?
A: It is such a gift to get to do something creative every day. I think partly why being a lawyer really didn't work for me was because I couldn't be creative every day, or not creative enough… Also, as a designer, I still get to help people everyday–something that attracted me to law–but now what I do is help people live better through design.
Q: Who inspires you?
A: My clients do. I have this very detailed questionnaire that I make everybody fill out before I work with them just so I can start to get in their mind – get in their head and learn what they're passionate about, what their hobbies are, what their favorite space they've ever been in is … I try to understand how to make all these things become 3-dimensional. And I think, when done well, the home inspires that person, it reminds them of their past, but it helps them move toward the future and who they want to be. When there's really good, thorough concept development with a client it will give them an inspiring space.
Q: Thanksgiving is over and Christmas is approaching. What do you do to transform your own house for the holidays?
A: I love scents, and smell is our strongest sense. One of my favorite things is bringing in branches or a tree, and burning scented candles. There's this whole wonderful evergreen forest smell that's just inspiring to live with this time of year. There's a Danish word, "hygge," that perfectly describes the sort of cozy, warm, delicious feeling you get sitting around with people on a winter evening over great food, conversation and lots of candlelight. Christmas comes at a time of year with the least daylight–so why not enjoy the beautiful intimacy of gathering together at home, cuddled around the fireplace?
Q: For those who don't have the time or resources, what can people do to make their homes more festive at Christmas?
A: The first thing that came to my mind is de-clutter. De-cluttering is such a cleansing thing to do and it gives you space to be more in the moment and present and cheerful as you celebrate the holidays. Once folks have de-cluttered their space, I think they should add interesting textures from the natural world–flower bouquets, tree branches, evergreen garlands–things that are nice to the touch or smell but that aren't that expensive, and they're also not a permanent addition to your home. I would always choose something real over something fake–be it a strand of popcorn for a garland or an evergreen wreath. These things have an authenticity that feels good to be around.
–Kayla Franson