Those looking to spruce up their appearance without the discomfort and downtime associated with major surgery are in luck. The field of cosmetic surgery is chock full of new procedures designed to minimize side effects and recovery time while helping patients look their best.
"With more and more technology, we keep coming up with better products and less invasive procedures or fine-tuning and making some of the procedures that have been around for a long time even better," says David Allison, a plastic surgeon in Gainesville. 
New, less invasive treatments are growing in popularity. The number of nonsurgical procedures performed in 2015 jumped 22 percent from a year earlier, according to a survey conducted by the American Society for Aesthetic Plastic Surgery. In fact, out of 12.8 million cosmetic procedures performed in 2015, the vast majority—about 10.9 million—were nonsurgical, the society says.
Check out what's hot in plastic surgery below.
Kybella
This injection, also known as deoxycholic acid, can help fix a key area of insecurity for people reaching middle age: the dreaded double chin.

"It's a nice product for people with mild to moderate fullness under the neck," says Howard Heppe of Plastic Surgery Services of Fredericksburg.
Experts say Kybella is best for men and women in their 30s and 40s because it will dissolve fat under the chin, but it won't address sagging or loose skin. Though the injection is less invasive than a neck lift, one surgical alternative, patients can expect several days of swelling and discomfort.
Doctors also warn that many patients may end up needing more than one injection to achieve the desired result. If two or three sessions are required, the cost could end up being comparable to surgery.
Microneedling
The process of poking the face with small, thin needles can be great for those looking to rejuvenate the skin. Microneedling can reduce the appearance of fine lines and scars and minimize pores. The ideal patient is usually in their 30s or 40s and is starting to notice signs of aging.
"Every time that needle goes into the skin, it's causing an injury that your body responds to and produces collagen, so you get a more refreshed look to the skin," says Roberta Gartside of New Image Plastic Surgery, with offices in McLean and Reston. "It's a not a skin-tightening procedure, but you may feel like your skin is tighter."
More recently, some doctors have started adding stem cells or plasma-rich proteins to microneedling procedures for the face and neck to spur better results and faster healing.
But while use of stem cells and plasma-rich proteins has proven effective for issues such as alleviating joint pain, Gartside says the research is still out when it comes to using them to reduce signs of aging. "It'll probably turn out to be a positive thing, but I don't think we have the full answer," she says.
Nonablative Lasers
Similar to microneedling, nonablative lasers target a host of skin problems, including fine lines and mild scars.
"You're creating a deep injury without burning the skin, ultimately getting collagen production," Heppe says.
For women, microneedling and laser treatments are particularly effective on the cusp of menopause as estrogen levels begin to drop. Nonablative procedures tend to be less invasive than ablative, or wounding, lasers that remove the top layer of skin, a process that takes weeks to heal.
Patients opting for nonablative treatments typically face less recovery time, though the results tend to be milder. Several sessions may be required.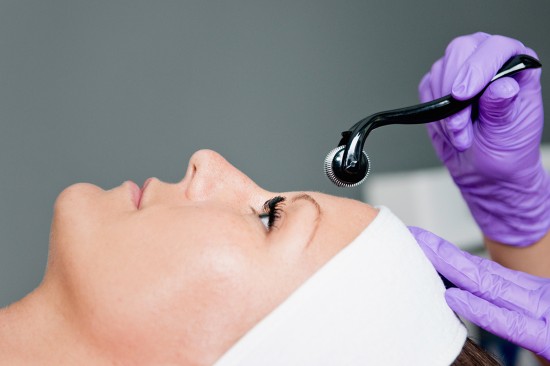 CoolSculpting
For those looking to remove stubborn bulges without surgery, procedures that freeze fat off might be a good alternative.
"It's good for people who just hate the idea of going under the knife," says Allison.
Similar offerings target problem areas using ultrasound or lasers. The treatments all use what's known as thermal energy to destroy fat cells in the target area. After the cells are killed and broken open, the body flushes the remains away. Recovery from the process is minimal relative to surgery, but if patients come back for additional treatments, the cost can be comparable.
Experts note that the procedure is best for patients who are already at a healthy weight rather than those who are overweight or obese. "The ideal person would be somebody with a body mass index under 25, who keeps in good shape, goes to the gym [and] just has that little muffin top they can't get rid of, but they don't want to have any downtime or any surgery," says Gartside.
Doctors also warn that patients need to stay active and watch what they eat after the treatment or the trouble spots could return.
Fat Grafting
The process of taking fat from one part of the body and adding it to another has long history, but advances in how the fat is processed for reuse have made the offering much more popular in recent years.

"It's been around a long time, but it's really gotten better in the last couple of years because of the ways that we have to process the fat" after it's been removed, says Allison.
Doctors say that fat grafting is a good option for people in their 40s who are going for a more youthful appearance. 
"As we age, we do tend to lose volume and soft tissue, and then with gravity, [the skin] kind of drops off the underlying bony skeleton," Gartside explains. "So putting this volume back in the right location, which is usually along the cheek bone and along the apple of the cheek, actually helps to lift the face a little."
The process is more invasive than some alternatives for regaining volume, and some of the fat that is grafted will be reabsorbed during the healing process. But the fat that remains tends to be long-lasting, reducing the odds that patients will have to return for additional treatments.
Fillers
Synthetic fillers such as Voluma, Belotero and Bellafill are also growing in popularity for adding subtle volume to the face as an alternative to fat grafting. The products are injected into problem areas, adding volume and reducing wrinkles.
"It comes down to how much volume you are going for," says Heppe. "I usually tell patients, if they're just trying to do a little, try the filler first, and if they like it, they may want to pursue the fat [grafting] at a later date."
Like fat grafting, synthetic fillers are good for women and men in their 40s seeking a more youthful appearance.
"Fillers have been around for a couple of decades, but the ones we had when I started practicing in 2002 were basically made from cow collagen, and with animal products there's a greater chance of having some kind of allergic reaction," Allison says. "Almost all the mainstream fillers we have nowadays are synthetic, so that makes it much less likely someone would have a reaction or complication."
He adds that the old fillers would break down after several months, while some of the newer products can last for years. Still, unlike fat grafting, patients will most likely have to come back for additional treatments when a filler dissipates.
On the plus side, the treatment is much less invasive than fat grafting with few side effects besides some mild bruising and discomfort. Patients don't face the same potential risks, like bleeding and infection, that can come from removing the fat from their own bodies to be used in the face and elsewhere. "Fat grafting is a surgical procedure," says Allison, whereas with synthetic fillers, "you're in and out in 20 or 30 minutes."