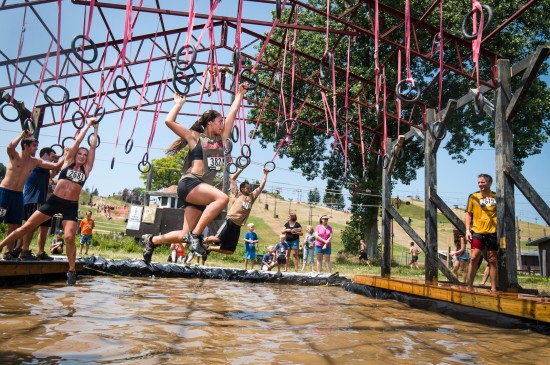 After attracting 5,000-8,000 participants in years past, Rugged Maniac's 5K Obstacle Race will return to the Virginia Sports Motorpark in Petersburg for its seventh consecutive year on May 6.
Petersburg is only one of Rugged Maniac's 30 stops in the U.S. and Canada, but according to co-founder and chief operating officer Rob Dickens, it is also one of its most successful events. 
There must be something about 15-foot walls, underground tunnels, water pits, slides, mud, barbed wire and jumping over fire that Virginia thrill-seekers can't get enough of considering Petersburg is one of the few locations that hosts more than one Rugged Maniac per year (there's one in May and another in October).
"There is an evolution of fitness in the U.S.," Dickens says. "Back in the day, 50 years ago, marathons and triathlons were just starting out. People started running these, and other people thought they were crazy." 
Eventually, marathons and triathlons became more mainstream, appealing to a broader audience that went beyond "hardcore athletes," Dickens says.
"The more people you attract to fitness, the more you have to cater to different desires," Dickens says. "Now, the average Joe wants to get in on the game but doesn't want to train for six months and run 26 miles." 
That could be why off-the-beaten-path races like the Spartan Race, Tough Mudder and Rugged Maniac have become increasingly popular over the past few years, though Rugged Maniac is different from its competitors in that it covers a shorter race distance (3 miles) and boasts even more obstacles (25). Rugged Maniac also partners with Anytime Fitness to offer online training programs for participants. 
The race will start at 9:45 a.m., when 300 people rush into the course to overcome the looming obstacles. Groups of 300 enter every 15 minutes.
"There's a constant stream of people going," Dickens says. "Think of it more like a theme park than a race." 
A festival will also run throughout the day with a DJ, contests (pull-ups, pie-eating and more), a mechanical bull and food and beer from Harpoon Brewery. The festival ends at 4 p.m. 
"Races like this one entice people to get off the couch, be more active and get involved in fitness," Dickens says. "Fitness doesn't have to be grueling; it can be fun."