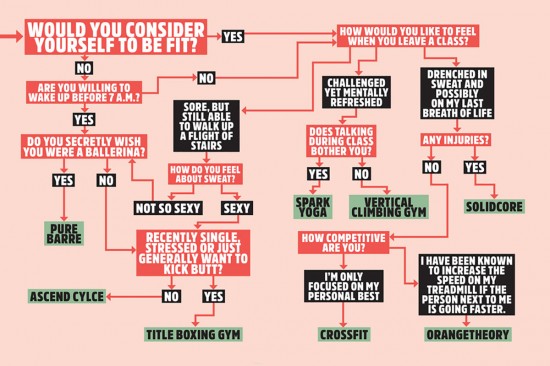 When it comes to a successful fitness regime, consistency is key. Working out regularly not only helps you develop a habit, but it also creates long-term health benefits. As much as we know and understand the benefits of working out (reduced risk of disease, decrease in depression, increased life span), it can still be difficult to actually get up and out. Motivation comes from mind over matter; we are most likely going to stick with something that we actually enjoy. With so many fitness classes popping up in the area, it can be difficult to find the best fit for you—until now, that is. Use our comprehensive flow chart to determine which workout will become your new obsession.
This workout comprises slow, controlled movements done on a Pilates machine equipped with cables that are meant to push each muscle group to the point of utter fatigue. The class begins with a plank sequence that sets the tone for the rest of the 50-minute session. After working the abs from every direction, the class progresses to a leg series and finishes with an arm workout. New students and veterans will be happy to learn that the new Sweatlana machines offer a wider range of resistance, making the workout easier to tailor based on fitness level.
Attire
Avoid loose-fitting or heavy clothing because of the many plank and lunge variations. Make sure to opt for moisture-wicking materials because sweat is definitely guaranteed by the end of this session.
Pre-Class Notes
It's advised to have a least some fitness foundation before jumping into [solidcore]. There are no breaks, and each round moves at a rapid pace. If it is your first class, make sure to get there early for a tutorial on how the machine works. Having an understanding of it is imperative because during class the instructor calls out moves based on where they are on the machine.
Locations
Multiple NoVA locations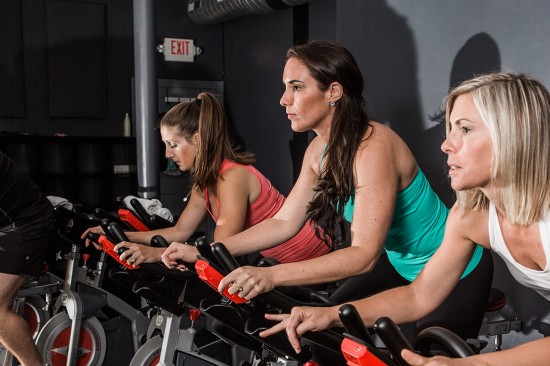 Ascend Cycle (formerly Swēt Ride) is an indoor cycling studio with classes that follow a course of high-intensity sprints and climb intervals set to upbeat music for an efficient workout. The standard class is 50 minutes, but there is also a monthly 90-minute ride for those looking to reach another level of endurance. Other options include Ascend Body, which incorporates strength training moves off the bike, and Ascend Happy Hour, where riders can raise a glass after working up a sweat.
Attire
Clip-in shoes are required for any class. The studio offers them for free if you do not own a pair. Capri leggings with a loose tank is a winning outfit formula that allows for movement and comfort on the bike. Make sure to bring a water bottle to hydrate quickly in between intervals.
Pre-Class Notes
New riders should show up 15 minutes early to learn how to clip into the bike and how it works. There is no late entry to class because missing the warm-up or not clipping in correctly could put unnecessary stress on the body.
Locations
2431 Mount Vernon Ave., Alexandria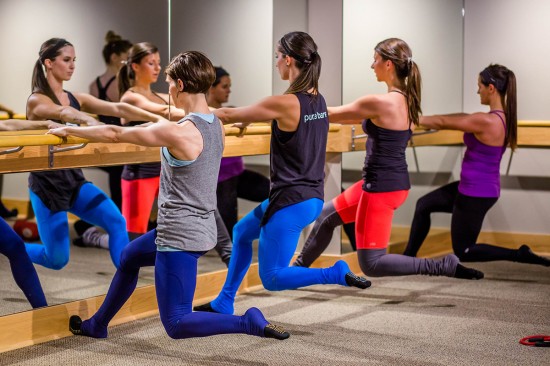 Pure Barre aims to sculpt your body by using small isometric movements to work muscles to the point of fatigue without high impact. The 55-minute class works the arms, legs, glutes and core with the help of a ballet barre, small ball, tube and light weights. Each class is different to make sure that your muscles are always being challenged.
Attire
It's important to have your body covered so that it will stay warm and your muscles become more pliable. Skip the shorts and crop tops and opt for long leggings, tank tops and a breathable wrap top that can easily be removed. Sticky socks are required for every class and are available for purchase if you do not have a pair.
Pre-Class Notes
Don't make the mistake of thinking that low-impact means easy. This class is challenging, and the small movements create a major muscle burn almost immediately. Head into it with the same mentality that you would a boot camp or other high-intensity class. Make sure to get to your first class early so you can go over some of the Pure Barre terminology like "tuck" and "pulse" with your instructor.
Locations
Multiple NoVA locations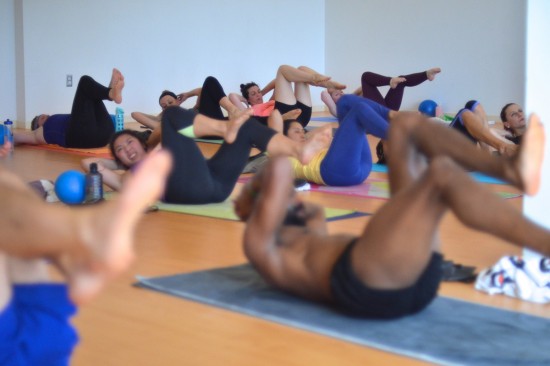 Vinyasa, or flow yoga, matches movement through poses to a series of breaths. Unlike many vinyasa offerings in the area, Spark's classes are heated to around 90 degrees Fahrenheit. Heated classes are helpful for detoxification and moving deeper into the poses. Don't worry about the dreaded yoga studio smell: Spark has a state-of-the-art filtration system that brings in clean air while maintaining the heat levels.
Attire
This is the time to show some skin. Because of the heat and intricate poses, many people opt to wear shorts, sports bras and form-fitting tanks in breathable materials.
Pre-Class Notes
Instead of trying to hydrate before or during class, drink water consistently throughout the day to prepare yourself. On a similar note, avoid eating a filling meal less than two hours before class. A full stomach may make getting into twists and inversions uncomfortable.
Locations
Multiple NoVA locations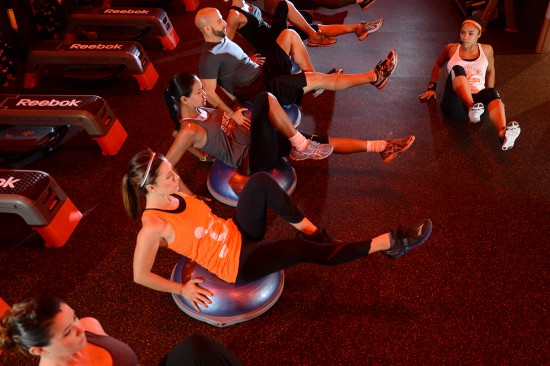 The beauty of Orangetheory is that it not only gives you a major calorie burn during class but also for up to 36 hours post-workout. The theory behind excess post-exercise oxygen consumption is that by pushing yourself to work for at least 12 minutes at 84 percent or higher of your maximum heart rate, you can develop an after-burn effect. The 60-minute workout uses treadmills, rowing machines and weight-training circuits for endurance, toning and cardio. Each person wears a heart rate monitor and can see the calorie burn and heart rate level displayed on a screen in front of them.
Attire
Make sure you are dressed for high-impact activity (read: burpees). Supportive sports bras are a must—no dainty designs here. Also make sure to invest in quality leggings and tanks with moisture-wicking material. Cotton clothing will likely be soaked and uncomfortable by the end of class.
Pre-Class Notes
First-time students should definitely take advantage of the free first class that participating Orangetheory locations offer. With the costly prices of boutique fitness gyms in the area, this offer is a great way to become introduced to the workout without the initial monetary commitment.
Locations
Multiple NoVA locations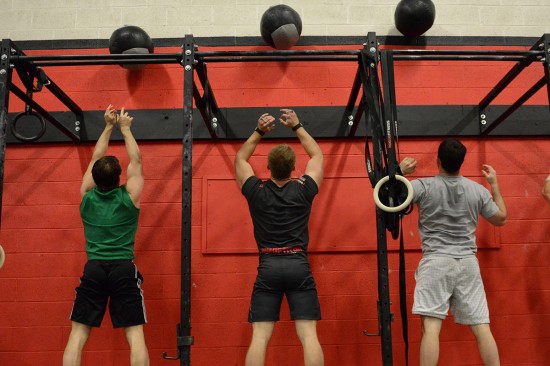 Crossfit is commonly misconceived as a brutal, hardcore workout that will lead to injury. But it really depends on the gym and instructors. Each gym creates a workout of the day (WOD) that usually requires a certain number of reps done as quickly as possible or with as many reps as possible in a given amount of time. It's important for beginners to take foundational courses so they can learn the basic movements and scalability. Scaling a workout means tailoring it to your fitness level, whether that consists of using lighter weights or modifying a move. Those who work out best with someone cheering them on will find Crossfit appealing because of the community-oriented nature of the classes.
Attire
The two most important items of clothing for any Crossfit class are shoes and socks. Because you are lifting and squatting a lot, shoes with flat soles are ideal. Running shoes have arches that can leave your feet aching by the end of class. Those high socks you spot around the gym actually serve a purpose—protecting your shins during box jumps and rope climbs—so make sure to bring a pair. If you worry about getting calluses from all of the lifting, you can also wear a pair of gloves.
Pre-Class Notes
Most Crossfit gyms offer a free introductory course to help you get acclimated to the environment and moves. It's important to try one of these foundational courses first before trying to jump right in. Not only will it protect you from injury, but it will also make your first WOD more enjoyable and increase your chances of coming back.
Locations
Multiple NoVA locations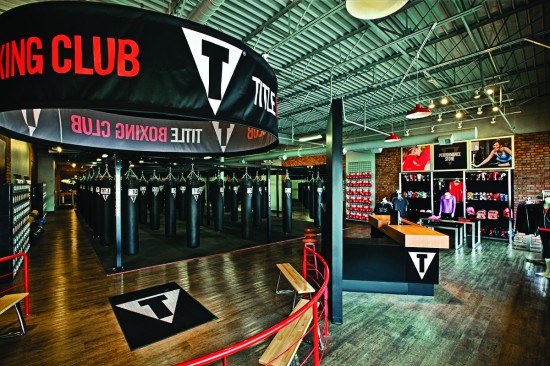 Most classes are an hour long and follow the same format: 15 minutes of cardio followed by 30 minutes of combination work on the punching bags and a final 15 minutes of abs and core work. Kickboxing is similar to the boxing classes offered, except it includes more of a full-body workout by incorporating combinations that require leg work.
Attire
Because your hands will be wrapped during class, you want to wear an outfit that does not need to be adjusted frequently. Choose mid- or high-rise leggings that won't slip down, and if you have a loose tank or T-shirt, try knotting it at the bottom to keep it from riding up.
Pre-Class Notes
If it is your first time, arrive about 20 minutes early so that an instructor can show you how to wrap your hands and fit you with a pair of gloves. The gym provides gloves for free, but wraps are an additional $10 if you do not have your own.
Locations
Multiple NoVA locations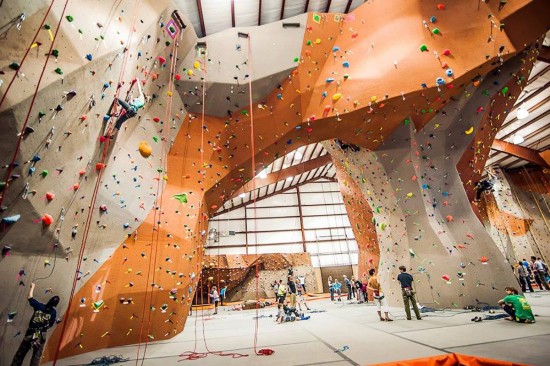 Rock climbing is not a typical workout, but it's a great way to build strength and get total-body toning. Vertical Rock Indoor Climbing Center makes it less intimidating with their open-climb sessions. For $20, each person is able to climb three walls with a harness and the help of an instructor.
Attire
If you choose not to rent shoes, closed-toe sneakers are highly advised. While you don't have to dress in traditional gym attire, you definitely want to wear something that allows you to move comfortably.
Pre-Class Notes
No experience necessary. The length of the class also depends on how many people you want to attend with. Vertical can even accommodate groups of 10 or more.
Location
10225 Nokesville Road, Manassas