The greatest feature of Northern Virginia is the juxtaposition of rural and urban settings—in 20 minutes you can go from one to another—and that means the places to play outside cover all types of activities. Did we also mention that we get the full four seasons? So you can have a different experience each time you visit one of these outdoor oases for …
… Hiking
Two major hiking trails run through Northern Virginia: the W&OD and the Appalachian Trail. But there are so many more that get overshadowed. From hiking and biking to equestrian riding, Northern Virginia has so much to offer in ways to take in our region's tranquil settings. Some of the trails you should definitely check out are the Potomac Heritage Trail along the Potomac River in Great Falls, which is a network of trails linking the Potomac and upper Ohio River basin that George Washington traipsed through. The Mount Vernon Trail provides breathtaking views and includes a bit of history to meditate on while pounding the pavement: The trail starts at Mount Vernon Estate to the south and Theodore Roosevelt Island and Arlington National Cemetery to the north. Along the journey are Lady Bird Johnson Park, the Navy-Merchant Marine Memorial, Gravelly Point, Daingerfield Island and Jones Point and Belle Haven parks. The Pyrite Mine Loop in Prince William Forest Park offers pyrite mine ruins, waterfalls and 8 miles of nature trails, and if you're looking for a historical backdrop to your hike, check out the Civil War Era Home Ruins Loop in Leesylvania State Park or the Second Manassas Battlefield Trail in Manassas. For nature-lovers, check out Meadowood Nature Conservatory in Lorton; Scott's Run Nature Preserve in Great Falls, with its boulders, forest, river and waterfalls; or Huntley Meadows Park in Fairfax, where you can explore the wetlands.
… Golfing
With all the businesses in the area, you better believe a lot of deals are being made on golf courses, and there are so many courses we don't have enough space to list them all out. To get you started, though, take some time to explore the public courses before you look into getting your own membership. Fairfax County Park Authority oversees eight year-round courses ranging from par 3 to championship-length courses and hosts leagues, lessons and junior golf programs. Prince William County has five public golf courses that range from mini-golf courses and driving ranges to nine- and 18-hole courses at par 27, par 70 and par 72. Loudoun County has eight courses, two of which are run through the regional park system with others offering public tee times.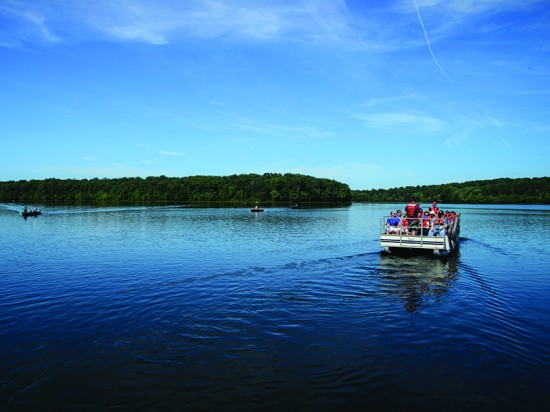 … Fishing
For those wanting to cast a line, there are numerous options to catch fish. In this region you'll be hooking bluegill, carp, catfish, largemouth bass, sunfish, walleye, white perch, northern snakehead and muskellunge. Burke Lake Park has 4.5 miles of shoreline for fishing and boating on the 218-acre lake. Fountainhead Regional Park offers a 250-foot pier and 100-foot long floating dock. Head to Lake Fairfax for a stock of rainbow trout, or visit Silver Lake Regional Park, which offers largemouth bass, bluegill and catfish. For more family-friendly fishing, head to Franklin Park, Riverbend Park or Lake Fairfax Park, where the focus is on younger visitors with catch-and-release fishing, fishing-themed birthdays or fishing lessons on Saturdays respectively.
… Boating, kayaking, canoeing and surfing (yes, we have that too)
There are numerous places to hit the water in Northern Virginia—we do abut the Potomac River, after all. A lot of the local parks like Burke Lake, Leesylvania State Park, Lake Fairfax and more offer boat and paddleboat rentals, but if you want to really hit the water with boating, definitely check out Washington Sailing Marina, Belle Haven Marina and Woodbridge Sailing School for a great foray into becoming a captain. For kayaking and whitewater rafting trips, head to Mason Neck State Park, Shenandoah River Outfitters or Wintergreen Resort. Or if you've always wanted to be a surfer but felt a little landlocked, sign up for surf school at Surf Reston, where you can become an expert SUP-er right on Lake Anne, Lake Audubon, Lake Newport and Lake Thoreau.
… Adventuring
Looking to add a little high-flying excitement to your day? There are three outdoor options fit for all the family members. At Empower Adventures you can zip through the 20-acre course with interconnected suspension bridges, platforms and zip lines. There is a 200-foot zip line on the ground level for youngsters, and for an extra adventure, moonlight canopy tours are also available. At Evergreen Adventure Park you can partake in zip-lining, rock climbing and a ropes course. And at Harpers Ferry Adventure Center in Purcellville, there are multiple challenge courses for zip-lining on top of the center's other offerings of water sports.
Who to follow on social media
@DougKammerer: NoVA's favorite weatherman giving you the latest on what's happening in the sky and air
@capitalweather: Weather is always the most talked-about thing in any area, and these guys are on top of it.