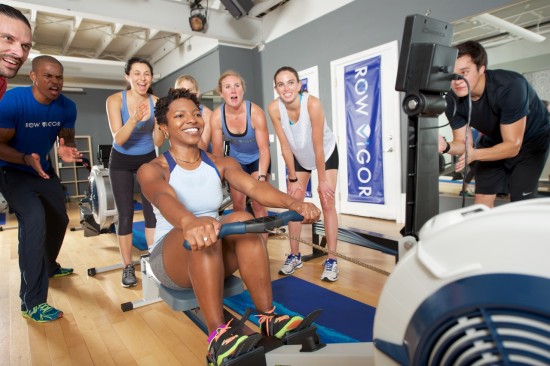 The D.C. area's first indoor rowing pop-up studio, Row Vigor, opened in Arlington on Aug. 1. The studio is equipped with eight Concept 2 rowers, otherwise known as ergometers and commonly called ergs, and boasts a schedule of classes held Monday through Saturday from 6 a.m. to 7 p.m. to accommodate busy Northern Virginians who are looking to get fit while adding variety to their current workouts.
Row Vigor offers classes for individuals with different ability levels, interests and goals. Their introductory class, Foundations, is tailored toward newbies, while rowers with more experience may prefer Erg Flow, which focuses on stroke form and cadence. The Gauntlet class incorporates interval work and is designed for those who are physically fit and competitive rowers. Elsewhere on the class roster is The Rowga class, which is a hybrid of rowing and yoga, and the Heart-to-Heart class, designed for those seeking a cardiovascular challenge. In addition to rowing, students can perform calisthenics, use kettlebells or compete in mini-sprint rowing against their classmates.
Instructors at Row Vigor, like the classes they teach, are diverse. A handful of The Gauntlet classes are taught by two elite U.S. rowers: Morgan McGovern, member of the U.S. Rowing National Team, and Maria Brezler, two-time All-American Rower.
"Row Vigor is a new concept started here in the D.C. area with plans to scale nationally and globally," says co-owner Kevin Allen, who you may recognize as a contestant from the second season of Donald Trump's reality show, The Apprentice. The leadership team is rounded out by co-owners Fola Awosika and Moses McCall. Awosika is Row Vigor's fitness partner, and McCall oversees the company's technology.
More than 200 people have already registered with Row Vigor. "It's really been surprisingly wonderful how the community has responded," Allen says.
Classes are 30 to 45 minutes long, cost $15 to $30 per session and can be purchased online or in person, although registering online allows students to preview erg availability during peak times.