By Meghan Meier
Fireworks, drinking and swimming safety tips for fun and harm-free summer festivities:
Fireworks Safety Tips
• Know local firework laws.
• Ignite fireworks in an open setting away from buildings, dry ground and flammable materials.
• Don't use metal or glass containers to support fireworks.
• Do not relight a firework.
• Wear safety goggles.
• Make sure body parts are not over fireworks during ignition.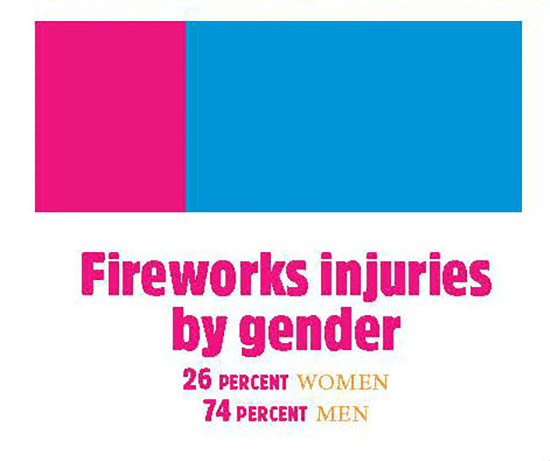 What Is Binge Drinking?
• 4 drinks or more for women; 5 drinks or more for men
• Don't drink alcohol before or during water/firework activities.
• Drink slowly and alternate alcoholic beverages with water.
• Never leave drinks unattended.
• Know your drink limit.
• Be mindful of what you mix.
• Don't drink while pregnant.
• Eat before and during drinking.
Water Safety
• Know the weather.
• Learn to swim.
• Know safety signs.
• Bring a swim buddy.
• Don't leave young children unattended.
• Inflatable or foam objects are not safety devices.
Camp Leader Tips
• Arrive at the campsite in daylight to inspect the grounds.
• Do not set up camp on a floodplain.
• Food should be packed in waterproof, airtight containers.
• Use tap or bottled water. If those are not available, boil fresh water.
• Clothing should be cotton, waterproof and worn in layers.
• Bring a supply kit of first aid care, hardware tools and personal care items.
"If possible, avoid walking at dawn, dusk and during the night, as these times are when bears are most active." –Black Bear Conservation Coalition