We were gonna be the guinea pigs. Mike Isabella and Jennifer Carroll, the former rivals on Top Chef season six, announced a partnership to open a seafood restaurant on D.C.'s Southwest Waterfront in 2017.
But first, they would workshop the concept in Mosaic, in the former Gypsy Soul space, before it would turn into one of Isabella's many Greek restaurants planted around the region.
After about four months of gaining both regular diners and critical applause, Requin is staying put in Virginia. And that's a good thing.
Requin bills itself as a Mediterranean-coastal French restaurant, and it plays out in ways both obvious, like a classic rendition of French onion soup, and subtle, like the Chesapeake-inspired blue catfish rillette.
Though the invasive blue catfish is becoming well-known in this area, it doesn't get the press even just a couple hundred miles up I-95 to Philadelphia, where Carroll is from and most recently worked.
When a journalist interviewed Carroll about specific items she would feature at Requin and singled out blue catfish, she admitted she'd never heard of it. She started investigating.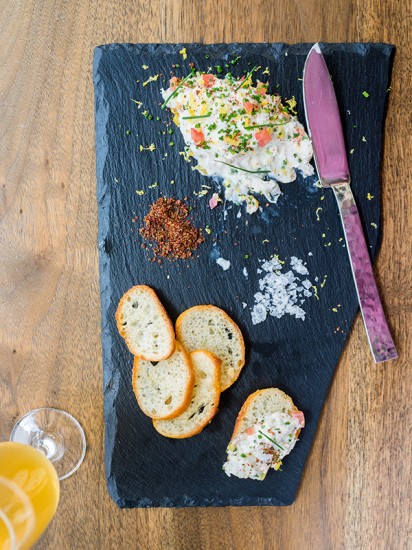 Carroll toyed with substituting the blue catfish in the classic trout almondine. But then she thought of breakfast: whitefish on a bagel. As a student of Michelin-starred chef Eric Ripert, who is known for his seafood prowess, Carroll understands how to turn what is usually a smoked fish plastered with mayonnaise into something that evokes Northeast bagel culture and hints at her classic training at one of New York's most revered kitchens, Le Bernardin. Her rillette is enjoyable from the view of both sides. She tucks tiny pieces of smoked salmon into the creamed fish, plus an undetectable smidge of tomato juice. All items, she says, she slides onto her bagel sandwiches.
What is so refreshing about Requin is its mix of classic comforts, its nod to trends and its approachability. It's a solid restaurant but with plenty of flair.
Carroll plays it straight with French onion soup, a textbook no-frills version, and it's just as good as you always want it to be with a deep brown broth crowned with croutons and cheese. At $12 it almost seems like a dare: How much are you willing to pay for such a humble soup? Take the dare.
The lunchtime croque madame is another true-to-original classic, with an eggy, cheesy brioche as a resting place for ham, Gruyere and bechamel. Also available for lunch (and brunch) is a cheeky spin on steak and eggs where grilled strips of meaty swordfish steaks mingle with crisp, thin fries, a tangle of arugula, pickled shallots and a yolky egg all waiting for a swipe through bearnaise.
Now a standard section on menus, tastes take the place of the gratis bread basket. It's what to munch on before ordering appetizers and entrees and desserts. But diners must pay for it. At Requin, it includes the blue catfish rillettes and a sumptuous blending of softened tomatoes and eggplant with a bang of citrus to spread over crostini.
A vegan-friendly selection is matchstick-sliced celery root cured, smoked and seasoned like pastrami. Carroll imagined this as snacking on deli meat, though it seems more like a crunchy slaw that begs to be used within a sandwich rather than picked at alone. It's a rare miss that, honestly, isn't even a miss.
The rest of the dinner menu divides into small plates and family-sized entrees. A duck leg, with crazy crisp skin and salty, tender flesh, dives outside the French borders with white asparagus, enoki mushrooms and a black garlic vinaigrette and could easily work as a light main. The smashed fingerlings, where potatoes stand in for tortilla chips, decorated with cheese and salami are a naughty crispy-salty-piggy snack.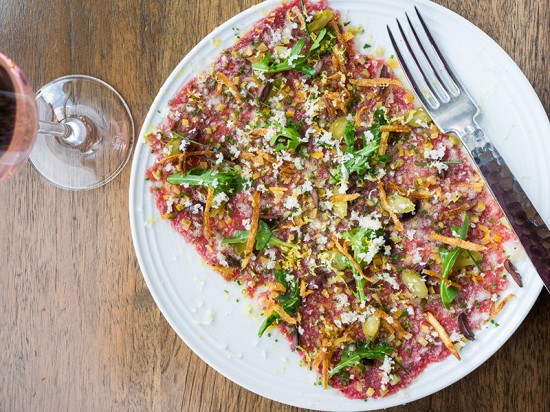 "It tastes like peanut butter," is what my tablemate said about the stunning display of beef carpaccio. I don't know how she got there, but just like in other moments of profound physical satisfaction, who doesn't blurt out uncensored daftness?
There is a richness, a savoriness. Thin slices almost seem gelled together, creating a base just as important as its toppings of crispy shreds of potato, olives and a double dose of horseradish: first infused into an oil lotioning the meat and then grated into snowy flakes.
A foot-long red snapper dominates the table, a fish easily shared as we forgot to use our plates and instead stabbed our forks into the soft meat and, before going right into the mouth, dabbed in a luxurious smoky tomato butter brilliant in balance of depth and lightness and also just right on the accompanying asparagus and yellow and green beans.
And for those (like me) who have trouble finding the right cocktail to pair through dinner, Requin's savory Drink Your Vegetables, with bell pepper-infused pisco, lime, Thai chili and Sichuan pepper combined with a frothy egg white, is a delicate, not-too-spicy drink that doesn't let the booze overpower what's on the plate.
Carroll continues with sublime simplicity through the end of the meal.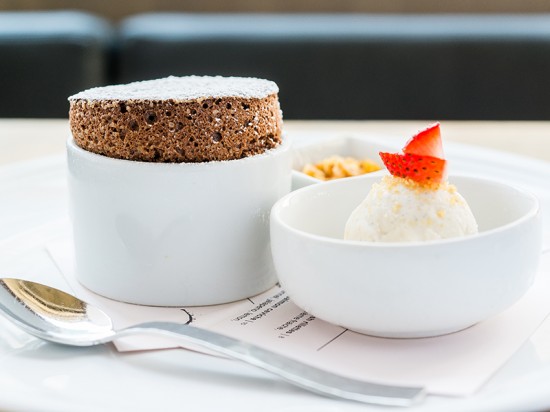 Though food site Eater recently published an essay on the death of the souffle, Carroll's menu both transcends and disobeys what's on-trend. In researching this dessert, she called her bold-name pastry chef friends.
They told her not to do it. It's a complicated dish to get right, especially in a chaotic restaurant setting. She spent three weeks figuring out recipes and timing.
"I'll tell you what," she says. "It's damn hard to execute."
I'll tell you what. Order it.
NOTES
Requin
8296 Glass Alley, Fairfax
Open Tuesday through Sunday for lunch and dinner; weekend brunch
Small plates: $12-$23;
Family-style plates: $24-$96