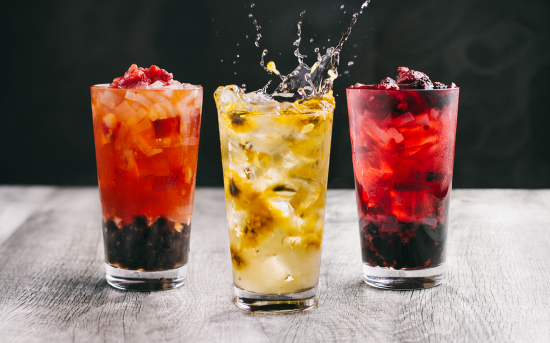 Teas'n You brings modern Asian teahouse culture to Tysons Corner. The shop opens today, offering tea drinks, baked goods and small bites in a well-lit corner spot just off Leesburg Pike, about a quarter-mile from sister restaurant Roll Play. This is under the umbrella group Happy Endings Hospitality, which has a penchant for suggestive restaurant names. The team's first concept: Chasin' Tails.
Also known as boba, bubble tea or pearl milk tea, tapioca drinks have been a millennial staple in urban centers with large Asian populations (and one of the hangouts in Crazy Ex-Girlfriend). Ordering boba can be overwhelming with the all possibilities: tea base flavor, secondary flavor, dairy option, sweetness level and then chewy additions—tapioca pearls come in both white and brown (brown sugar)—that go beyond just tapioca to include fruit jellies and real fruit.
Teas'n You wants to simplify the process with standard "specialteas," like the Fusion Fruit Tea, blending strawberry and passion fruit black teas with the addition of lychees and fresh strawberries, as well as lychee jelly. Sweetness levels are ordered by number: one is unsweetened, two is a little sweet and three is "just right."
There are custom options from the vast tea selection and add-ons, which run the gamut from aloe vera to flan custard as well as grass jelly made from Chinese mesona, an herb from the mint family known for its cooling qualities and refreshing herbal flavor.
Other drinks include milk teas (available lactose-free), as well as iced coffees made from Vietnamese roasted beans. A more unique-to-the-area offering is the sea salt cream, where a salted and lightly whipped cream is layered on top of a drink. Shake to mix for a creamy sensation with the salt highlighting and tempering flavors, like in the White Rose Cream Tea, where the concentrated rose flavor could overwhelm (i.e., taste like soap) by itself, but the salt mellows it to a velvety refreshment.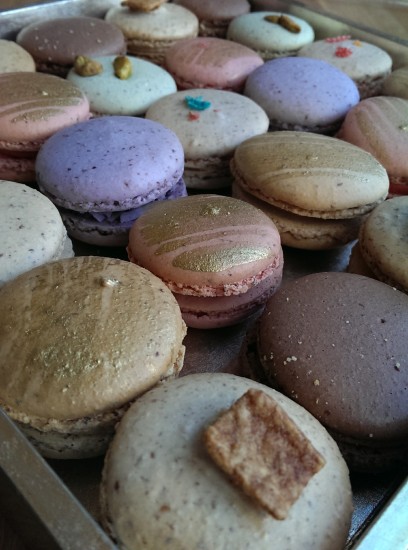 Pastry chef Lysa Thuy Pham put together a menu of hybrids, like doughssants (cronut, or a doughnut-croissant hybrid) and cruffins (muffin-croissant hybrid), plus pillow cakes (Japanese cheesecakes) and the trendy macarons in all colors of the unicorn, including a vivid purple taro coconut (also available as a drink flavor) and a Vietnamese iced coffee brushed with a metallic gold. Savory items include garlic truffle fries and basil popcorn chicken.
Teas'n You is set in golds and grays and bright teak mini wooden booths complete with gilded throw pillows. A leaf and flower art display hangs in the front window, filtering in the sun as the line forms airport-barrier style. 
The owners of Happy Endings Hospitality have come a long way from the woes of opening their first Chasin' Tails location. The fourth concept, Lei'd, will feature Hawaiian poke and is set to launch next door to Teas'n You this summer.
When Happy Endings isn't opening new concepts, they are supporting the next wave. Longtime Chasin' Tails manager Anhthu Pham will be opening up Churrology, a churro-focused dessert spot, in Leesburg. Au Dang from Happy Endings is "willing to help guide me, and he's happy that I'm able to take away a bunch of responsibilities I have at Chasin' Tails and use it somewhere else," says Pham. 
Churrology signed a lease to share B Doughnut's space. When the Leesburg doughnut shop sells out around noon, Churrology will open for the p.m. slot. The Sterling native admits to being inspired by similar churro dessert bars in Southern California that she frequents during her biannual visits. She'll serve freshly fried churros with soft-serve ice cream and a variety of Instagram-worthy toppings, like Fruity Pebbles. A popup at the B Doughut space is planned in June before launching at the end of August. // Teas'n You: 8032 Leesburg Pike, Vienna; Churrology: 7 Loudoun St. SW, Leesburg