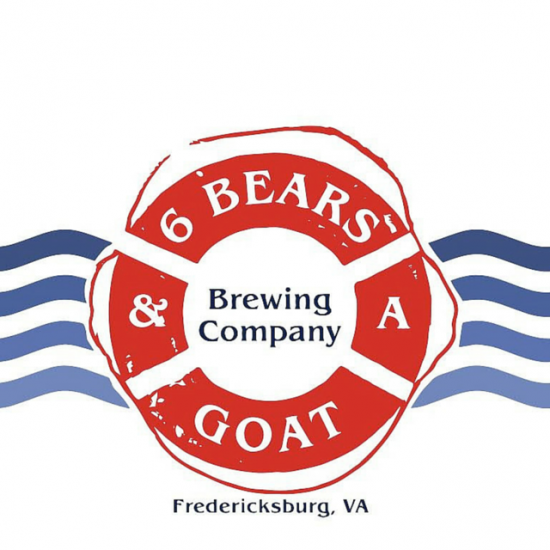 With a name like 6 Bears and a Goat, a petting zoo might come to mind instead of brewery formed by a crew of military veterans and business partners.
Located on 4 acres west of 95 in Fredericksburg, 6 Bears and a Goat is the collaborative effort of former and current Harkcon Inc. board members Mark Faller, Kevin Harkins, Kyle Moore, Laurie Mosier, Jim Sweet, Keith Curran and Richard Harkins. The first six served in the Coast Guard with Richard Harkin as the lone Navy vet; the animals, bears and the goat, represent their branches.
After Faller met head brewer Chuck Arnold at a Fredericksburg homebrewer's club, he drew up a business plan and presented the idea of a brewery to his fellow board members at Harkcon. The team was eager to help: Harkcon is the main financier of the brewery, and board members serve as owners of 6B&G. With an expertise in human capital and training, Harkcon provides HR support and additional help with other parts of the business, like insurance. 
"There's a very close relationship to both companies," says Kevin Harkins, Harkcon CEO. "And part of my long-term vision has always been that if people within our company decide they want to try to do something different, if there's any way we can try to help them and it would ultimately result in a new business spawn, then that is what we would do."
The brewery officially opened about six weeks ago. The 110-seat tasting room will double as the dining room come April, as the kitchen is in its final construction phase. There will also be two private event spaces, a deck and a beer garden. The kitchen will be run by local restaurant team Joy Crump and Beth Black (FoodE, Mercantile).
As for the beer, there will be a single barrel dedicated to research and development plus a 15-barrel brewing system featuring six flagship beers, including an American Pale Ale that will be served this Wednesday in New York City at the James Beard House in support of Crump and her team, who will be cooking for Women First!, an evening celebrating International Women's Day. Tickets are still available ($175). // 6 Bears and a Goat Brewing Company: 1140 International Parkway, Fredericksburg