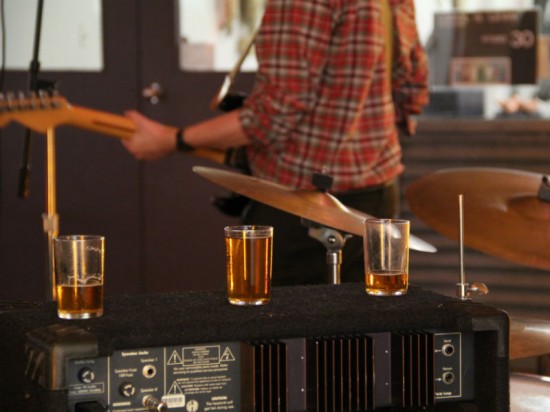 For the third year in a row, the Art League Gallery will host Art on Tap to showcase both faculty artists and local breweries.
The event was originally conceived as Art on Rocks, for which artists teamed up with local mixologists to showcase their work alongside cocktails inspired by their creations. In recent years, however, the event has grown into a collaboration with regional restaurants and breweries.
"We've been hosting this event for three years, and with each passing year it has grown bigger," says Whitney Staiger, Art League's gallery director. "When we first started, we only had a handful of breweries participate, and now we have a total of six participating with some returning and some new." This year's participating breweries are Harrisonburg's Brothers Craft Brewing, Lorton's Forge Brew Works, Richmond's Hardywood Park Craft Brewery, Baltimore's Heavy Seas Alehouse, Crozet's Starr Hill Brewery and Alexandria's Port City Brewing Company.
"We really want to show people what this community has to offer, not with just the artists, but the breweries and restaurants as well," Staiger says. "This truly is a community event."
For Art on Tap, Art League faculty artists submit their latest works with the hopes of being selected by a brewery to have their work represented at the event. "We usually have about 20 artists submit their work every year, and from those 20, only five or six are chosen to compete," Staiger says.
The event will also offer visitors food sourced from local restaurants, including Chadwicks, Sugar Shack Donuts, Pizzeria Paradiso, Virtue Feed & Grain and Vola's Dockside Grill. Representatives from the restaurants are tasked with choosing the beer-and-artist pairing and then creating a unique appetizer to complement them. At the end of the night, the winning trio is chosen by a panel of Art League judges and presented with a trophy.
Aside from the food and beer, the event will also feature live music, a video art screening with pieces submitted by NoVA artists and free  Art on Tap beer glasses attendees can take home.
Art on Tap takes place Nov. 4 at 7 p.m. at the The Art League Gallery in Alexandria. Admission ranges from $35 to $45, and tickets must be bought in advance.