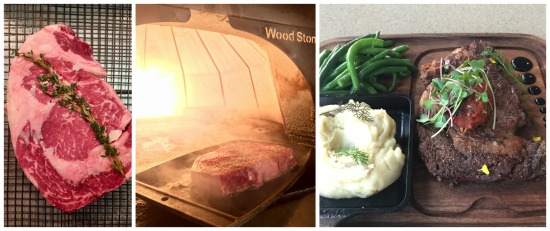 "We made it up," says Jason Miller of the new steak confit-like preparations WK Hearth is serving in Purcellville.
The owner of the Wine Kitchen brand (with branches in Leesburg and Frederick, Maryland) recently hired new chef Ben Cohen to rejigger, and streamline, the menu. Gone are the Italian influences (read: pizzas), though the menu will keep a couple of pasta dishes and maintain the hearth as its focus.
The expanded steak program features five different cuts—filet, rib-eye, short rib, bison New York strip and tri-tip—from local Roseda Farm and Cibola Farms. The menu lists the farm and the cuts' stats, including the type of cattle, how the animal ate (i.e. grass-fed, grain-finished) and if and how long it was aged. Says Miller on the the terroir of the meat, we're "talking about it like wine." 
Because the steaks are butchered in-house, the kitchen saves the fat, which is then rendered. The liquid fat, plus the trimmed meat and thyme, is sealed in a bag, creating a way to simultaneously marinate it and keep it fresh. 
At order, the steak, still coated in all of that flavorful fat, is placed in a cast iron pan and, for a medium-rare delivery, travels in and out of the 700-degree hearth in seven minutes. // WK Hearth: 130 Purcellville Gateway Drive, Purcellville