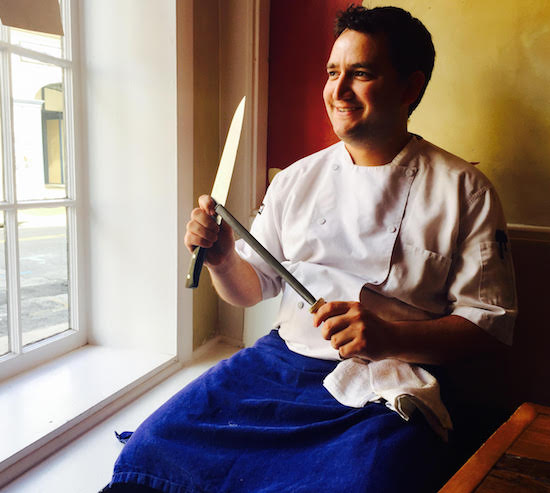 The newly appointed chef of The Wine Kitchen in Leesburg has a resume that reads like a greatest hits list: Fiola, Bibiana, Vermilion and Tallula. But that's not the only experience chef Tim Rowley is bringing with him to the cozy dining room on King Street. The son of a Department of Defense employee, Rowley grew up overseas, doing a short stint in Yugoslavia and six years in Central America. It was in Guatemala where Rowley felt a connection to the land, which is the very thing that led him to accept a gig in Loudoun County.
"I remember not just the type of food there, but the emphasis put on the product because of the local agriculture in Guatemala including farming and fishing," Rowley says. "It's a nice foundation to build on when becoming a chef."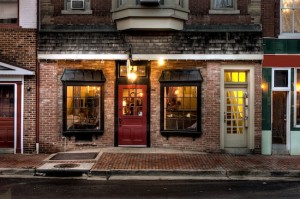 Rowley will source ingredients for his modern American menu spiked with Italian influences from nearby farms. "[Loudoun County] is the closest thing we have to Sonoma or Central Coast, California, because of the produce, livestock, chicken farms, beef [and] pork, and the wines are incredible," he says. Rowley is particularly fond of neighbors Great Country Farms and Bluemont Vineyards. "Great Country has an amazing supply of apples and pears that we just put in a new dessert," Rowley says. The chef sautés the fruit in butter, cinnamon and brown sugar before putting it into puff pastry topped with sweetened mascarpone cheese and toasted pistachios.
Since taking over at the start of the month, Rowley has rolled out other dishes that showcase his style including a fall-spiced lobster risotto with roasted butternut squash, squash puree, crème fraîche and toasted pepitas. Then there's local hanger steak with wild mushroom risotto, celery root puree and a salad of celery leaves and green apples from Great Country Farms.
Neither of these dishes, however, is as personal as "Grandma Bert's egg casserole" off the brunch menu. "That's the dish my grandmother used to make for the family when we'd visit Virginia Beach in the summer as kids," Rowley says. The chef must have a thing for childhood throwbacks because The Wine Kitchen will host a special Dr. Seuss-themed dinner on Dec. 31. "Every dish will be paired not only with wine but with a Dr. Seuss quote or picture of some sort," he says.
The Wine Kitchen in Leesburg is one of a trio of restaurants in the region from Jason Miller and Michael Mercer focused on serving eclectic wines in flight format accompanied by complimentary, seasonal cuisine. 
The Wine Kitchen, 7 South King St., Leesburg; 703-777-9463
---
Laura Hayes hails from Philly (but don't hold it against her). She's been covering the local dining scene for three years, and her work has been published in the Washington Post, Food Network, Washington City Paper, Arlington Magazine and more. Having lived in Japan for two years, she finds herself in a constant state of craving sushi. Laura always orders her favorite savory dish again for dessert and keeps her gut in check through lots of CrossFit classes.