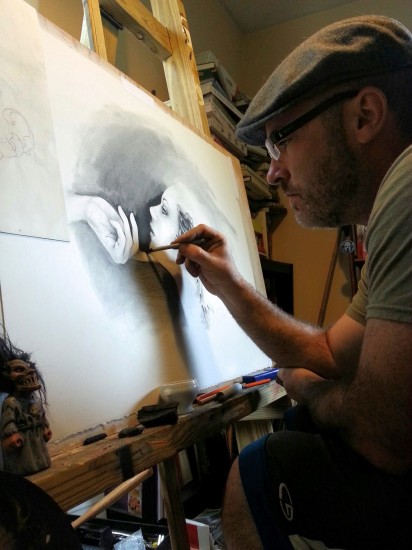 You won't find the executive chef of The Restaurant at Patowmack Farm in Lovettsville at Michael's or Hobby Lobby buying the materials he needs to carry out his hidden talent of etching impressive charcoal drawings. That's because—much like in his cooking, which involves a heavy dose of foraging for ingredients—Tarver King eschews the easy way out.
He makes his own charcoal using everything from trees he encounters in the woods to bread to grape vines from Virginia wineries. "I was hoping different vintages would create different appearances on paper—like look at this charcoal from 2007 cabernet sauvignon vines," he says in jest. The softer the wood, the darker the charcoal, he explains.
King's been drawing since he could hold a pencil. "It's one of my favorite things, and I've been doing it as far back as I can remember," he says. "I've tried to do other mediums like painting and pastels, but I enjoy charcoal, the history of it and how it ties in with food, so I'll probably stick with it."
The hobby now serves as a break from helming a kitchen that continues to rake in accolades, including being named Best Formal Fine Dining Restaurant at the 2015 RAMMY Awards. But it's challenging to make time. "I wish I didn't have to sleep, I really do," he says. "Sometimes, I'll sit down to spend an hour with my artwork, then four or five hours later my wife is like, 'What the hell are you doing? Come to bed—it's two o'clock in the morning!'"
The inspiration behind King's somewhat gothic and macabre drawings comes primarily from Norse mythology. "Women, who are beasts in a way, come down and pick up the dead and bring them in for judgment—if you're going to go down, you might as well have a hot chick come take you away," he explains. He's also particularly proud of a piece he calls "The Revealing of Morrigan" because it took 350 hours to complete.
King's only toyed with the idea of selling his work, but he has given several drawings away to friends. Perhaps the greatest compliment, however, is when a model in Israel got a replica tattooed on her whole thigh. "It was the face of a snarling vampire woman with fangs," King says.
---
Laura Hayes hails from Philly (but don't hold it against her). She's been covering the local dining scene for three years, and her work has been published in the Washington Post, Food Network, Washington City Paper, Arlington Magazine and more. Having lived in Japan for two years, she finds herself in a constant state of craving sushi. Laura always orders her favorite savory dish again for dessert and keeps her gut in check through lots of CrossFit classes.