By Pat Tanumihardja
When I first glimpsed celeriac in my CSA box, I thought, somewhat irrationally, it was a brain.
Celeriac, also called celery root, is a gnarly, cream-colored sphere from the carrot family. I eventually transformed it into a velvety soup with the help of pear, another cold-weather traveler. This was one of the many times my box of seasonal goods has taught me that eating local is both a commitment and an adventure.
Before moving to Northern Virginia, I lived in central California, where the mild climes and glorious produce made committing easy. At my local year-round farmers market, I had a bounty of fruits and vegetables to choose from, and my go-to farmers greeted me by name.
I was so spoiled; nothing could've prepared me for the mid-Atlantic's four seasons. There's no denying it: Trading in nine months of sweet, juicy, organic strawberries for cabbage and kale made California a hard act to follow.
Just as I was about to succumb to mealy supermarket tomatoes in winter, I started a cookbook project: seasonal vegetable-focused Asian recipes. It turned into Farm to Table Asian Secrets: Vegan & Vegetarian Full-Flavored Recipes for Every Season, which was published today.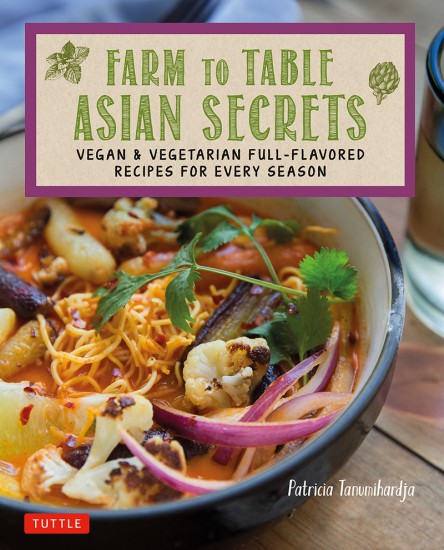 Home-cooked Asian dishes have always been vegetable-heavy, with meat playing a supporting role. When I was growing up, a typical meal comprised rice or noodles accompanied by a meat or fish dish often studded with vegetables (think sweet and sour pork), a simple vegetable stir-fry (say Napa cabbage and egg) and a clear, usually vegetable-based, soup.
Unbeknownst to me, developing year-round recipes in my Springfield kitchen using vegetables grown within 100 miles would require some culinary mettle.
My biggest breakthrough came when I started channeling my mother. Like many immigrants to the U.S., Mom learned to adapt and assimilate. (My parents are Indonesian-Chinese; I was born in Jakarta with its colonial Dutch cuisine, raised in Singapore and then moved to Seattle for college.) I took her lead.
Summer and fall were a breeze. Sweet heirloom tomatoes, ever so adaptable, found mates in tofu and eggs. Versatile zucchini could be cajoled into getting hitched with Thai basil and lemongrass. Hearty greens like broccoli rabe banded easily with soy sauce.
When winter came, I clung stubbornly to my CSA subscription, taking each and every bag of turnips in stride. After much tinkering, I shredded pink-topped turnips to make my favorite dim sum treat, luo bo gao (radish cake), and tossed cubes into lime-scented coconut soup. As much as I like beets, I was wary of melding their earthy taste with Asian flavors. My salvation? Pungent green curry.
When spring finally arrived, I whooped for joy. I discovered rhubarb could do double duty in a sour soup usually made with tamarind. I stirred spring's first artichokes into red curry. And the crunch of snap peas paired delightfully with other spring veggies in a rice bowl.
Yes, Virginia produce is fleeting; it doesn't have California's diversity or ubiquity. But after weathering a complete growing cycle (with a few casualties), I'm now fully committed.