Though Meaza Zemedu left Ethiopia when she was a teenager, she knows the role coffee plays in her home country.
"You don't need a psychologist," Zemedu says. Because when the men were out in the fields, the women were gathered together drinking coffee and talking about their husbands. And coffee talk lasts for a while.
At her restaurant, Meaza in Falls Church, guests can book an Ethiopian coffee ceremony. Though it's usually reserved for special occasions, like a luncheon the day after a wedding, it's also available for anyone interested in drinking coffee just off the fire—and savoring time with friends.
Dressed in habesha kemis, a lightweight ankle-length white dress, a woman brings out a mat, a portable burner, green coffee beans on a flat pan and a metal rake.
The fire is lit, and the woman, silently, constantly stirs and rotates the beans, poking, stoking and moving them around the pan, eventually eliciting sparks and smoke. The beans, brought over to smell, turn a deep brown, almost black. Customarily pounded with a mortar and pestle, the beans instead buzz around in an electric grinder in the kitchen (Zemedu shrugs as she explains this detail, as if to say, "Hey, it's 2016.") and are poured into a clay pot, a jebena, with water and set over the fire to boil.
There are three rounds of coffee. The first is a blast. It's thick and dark, fiery, roasty, charred. But not bitter. It is a dense cup enlivened with a single strand of tena adam (also called rue or herb of grace). This pretty leafy green is vibrant and bright, maybe like lemon verbena or pineapple or Bubblicious watermelon gum.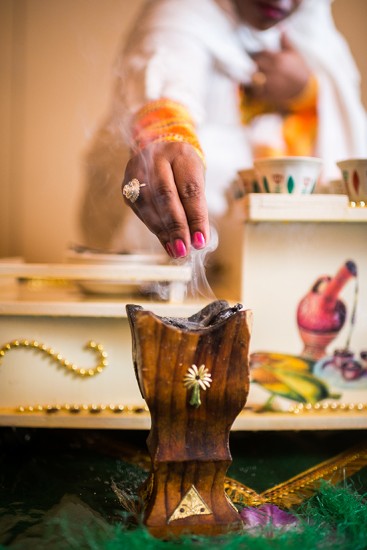 We sip and snack on popcorn sprinkled with salt and sugar and lightly roasted, crunchy and barely salty, with a few sunflower seeds and peanuts mixed in.
The next round keeps the same grounds and more water, like reusing a tea bag with a refresher from the kettle. It's less pungent, though the herb stays strong. "It just buys time," says Zemedu. The second cup continues conversation. "Coffee means something. It's not like Starbucks," she says.
She claims a very low divorce rate in Ethiopia since women spend so much time discussing relationships and seeking advice from friends.
A third round arrives, same grounds, more water. By the time we left, an hour and a half later, my friend and I never broached the state of our respective marriages. But in the gal-pal spirit, we attempted to employ the shine theory and not bash other women. Or as writer and coiner of the term Ann Friedman puts it: "When you meet a woman who is intimidatingly witty, stylish, beautiful and professionally accomplished, befriend her. Surrounding yourself with the best people doesn't make you look worse by comparison. It makes you better."
My friend and I mostly chatted about work, bosses, career jumps, editing, writing and never changing our last names, lest it interfere with our byline prowess. Like the use of the electric grinder in today's coffee ceremony, things change; we adapt. Our husbands aren't in the field, and we certainly aren't at home. But we still need a cup of coffee and a friend. // Call ahead for coffee ceremony, price varies: 703-820-2870. Green coffee beans and other coffee equipment are sold at the adjoining market. // Meaza Restaurant: 5700 Columbia Pike, Falls Church