Do not expect beers when you watch football with brother and sister Will Gray and Jennifer Beckman. "We come from a bloody mary family," says Gray, who started Back Pocket Provisions, a line of bloody mary mixes, with his sister. Bloody marys show up at football watch parties, Christmas brunch and were "always a part of family gatherings," Gray says.
The two siblings both work in the food world: Gray at the Wallace Center (an Arlington organization supporting local and sustainable food systems) and previously in small-scale butchering at The Rock Barn, and Beckman is a recipe developer and has traveled the country on the competitive cooking circuit. It's no surprise they now have their own venture that taps into our area's agriculture.
The tomatoes within the bloody mary mixes all come from Virginia farms, and there is a diversity of tomatoes not only within each bottle but from batch to batch. Unlike mass-produced products, whose main selling point demands identical output, Gray says "continuity isn't always the goal." Instead, he chooses a combination of tomato breeds and looks for freshness.
"There are plenty of bloody mary mixes in the world," says Gray, that are "always going to taste like ketchup. We're trying to do something that is different." The variations, he says, are "a good thing to me."
The current lineup includes Bloody Brilliant, a classic rendition with horseradish and Worcestershire; Bloody Bangkok, a South Asian-inspired flavor with red chilies, lemongrass and fish sauce; and Bloody Baja, a nod to the Southwest with corn, green chilies, garlic and smoked paprika. The team is workshopping a couple new flavors for next year: one using green zebra heirlooms for something akin to a salsa verde and a savory, nonspicy version using rosemary and fennel.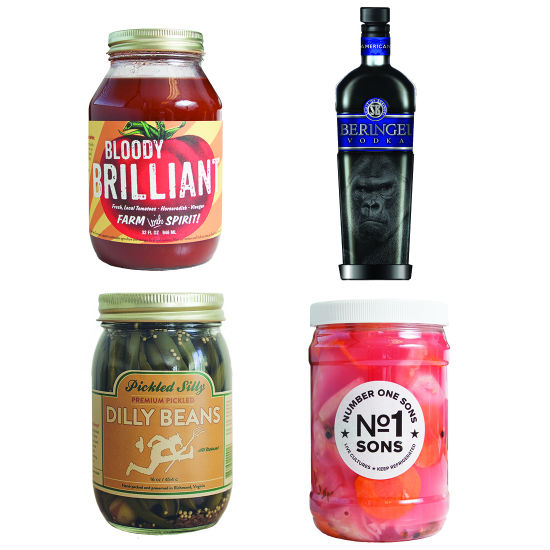 There Will Be Bloody Marys
This is Back Pocket Provisions co-owner Will Gray's ideal, and mostly local, bloody mary: two parts Back Pocket Provisions Bloody Brilliant (Falls Church), one part Silverback Distillery Beringei Vodka (Afton), squeezes of lemon and lime juice, some cayenne powder ("I like that really dry heat," he says) and, to garnish, pickled dilly beans from Pickled Silly (Richmond) and spicy cabbage hearts from Number 1 Sons (Arlington).