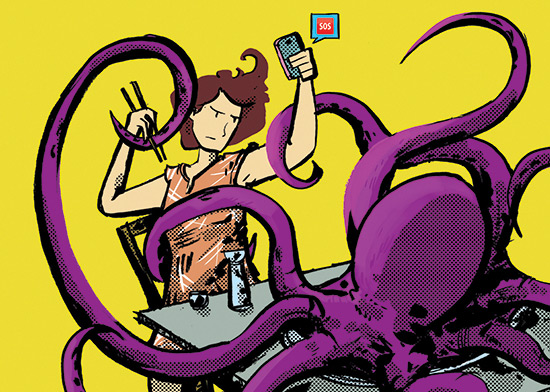 It was only available on Friday.
My friend kept telling me about this Korean restaurant in Annandale serving sannakji, live octopus.
After walking through Soju Sarang's entranceway, past the water tanks filled with lobsters and flounder, we slid into one of the few remaining tables on a busy Friday night. We ordered the small sashimi platter that comes with a parade of more than a dozen banchan, raw fish (salmon, yellowfin, tuna, surf clam, flounder, sea squirt, sea cucumber … ) and a cauldron of seafood stew, bubbling with crab bits and fish chunks.
But that was all later.
First, the plate of live octopus.
Our server, a woman in her 50s with a dark bob and wearing the restaurant-branded hot pink T-shirt, put down a plate of squirming octopus legs. It was as ordinary as a diner waitress sliding eggs and bacon across the table.
I screamed.
My fellow diner is not just an adventurous eater; she's a professional: Jessica Sidman. At the time she was scouting for the Are You Gonna Eat That? column in Washington City Paper. (She's now at Washingtonian.) The recurring feature highlights pig lip tacos, plankton bucatini and camel sausage, among other unusual eats. It often captures the highfalutin shenanigans of a pedigreed chef, like Victor Albisu's grilled beef heart over beef heart tartare, topped with a fried egg, at D.C.'s Del Campo.
Sidman wanted something authentic. She wanted something from the suburbs. She wanted live octopus.
This is an actual dish in Korea. But in the United States, this is a situation.
Here, we eat for adventure, for sport, for Instagram. 
Food is no longer sustenance and culture. It's a brag-fest. Look where I am. Look what I'm eating. From the gross-out Bizarre Eats to any camera following Anthony Bourdain to Food Network kitsch to Chef's Table prestige, we are taught to eat for show. It's all about image.
If our social media feeds portray who we want the world to know us as, then what does it say about the lengths we go to impress our followers? We only tweet our wittiest thoughts; we only post our trendiest meals.
But as a professional food writer, what rules must I play by? As a restaurant critic, am I a foodie by default?
It is my literal job to eat everything. I do not base my order on evoking likes and hearts and heart-eyed emojis. Because it's a job, I sometimes eat what I may not prefer (peas, for one) but try to find an inner voice to judge from an unbiased position.
On that night, I ordered a dish that scared me.
It scared me so much that I actually screamed in a restaurant. Sidman was taken aback and kind of laughed at me and my dramatic reaction. The server was startled and almost grabbed the plate away. We assured her that yes, this is what we want, what we ordered, and we will gladly eat this.
Sidman started right away, balancing chopsticks between her fingers to clasp the squirmy little legs. These legs still had life in them. They bounced on and over and atop one another.
I found solace in the steamed egg banchan, a familiar comfort. After the scream, our server gave us gentle care and made sure the octopus was to our liking. Sidman smiled wide and told her how much she enjoyed it. The server said she did too. I apologized again for the outburst and thanked her. I was mortified by the scream. I still am.
I read later in Sidman's blog post that the octopus's suction cups stuck to the insides of her mouth. But at dinner, she kept the unsettling details to herself and lightly encouraged me to try the legs. It wasn't until they ceased moving that I fumbled with my chopsticks, too anxious to hold on properly. I scooped it into my mouth. It was fresh. Clean. It tasted like octopus. Good octopus. It was nice to try it without the requisite charring, the way so many restaurants handle the sea creature.
I could only manage to eat one piece. Even though I liked it, I couldn't stomach any more. I could say I tried it, and that would have to be enough for me.
Soon they cleared the plate, and it was on to more food. For the rest of the night I felt shaken by seeing a more-or-less live animal on the dinner table.
Three weeks later, I spotted grilled octopus on a different restaurant menu. I cringed. It wasn't only the vision of little legs dancing in my head that haunted me. It was the fact that when faced with moving limbs, I balked.
I questioned my professionalism. I questioned what it takes to be a restaurant critic. This is not a job. It is a lifestyle. It is dining out almost every night. And it's eating everything.
But I am still just a product of this country, where growing up I ate pancakes and potato chips. Is it fair to expect someone to go from bagels to pulsating octopus legs in a few decades?
I kept wondering how my friends in the food world (writers, critics) would have fared at the table.
I sent texts with no context: "Would you eat live baby octopus?"
"I'd slaughter the cow if they brought it to the table." 
"Good question. I'd only know for sure when it was placed in front of me. I tend to like my food dead and cooked."
"Depends where. Maybe?"
"Does Howdy Doody have wooden balls?"
"I'd like to be faced with it!"
I started asking other friends, co-workers, my brother. The replies were mixed, but I didn't believe anyone anyway because I would have said yes before it actually happened to me.
Though I've been to South Korea once, I didn't try this dish, but I ate plenty of items I wasn't entirely sure I could name.
I don't know the meaning behind sannakji when served in Korea. When I called Soju Sarang to ask questions for this story, the owner denied serving freshly slaughtered octopus legs.
I read her my receipt, telling her the date I was there and recalling the exact details of the plate. When I emailed her a link to the story on Washington City Paper's blog and the Yelp comments citing live octopus at her restaurant, I never got a response. I called back. I never heard back.
After speaking with a Chinese-American chef about regulations and Asian restaurant culture here, he told me he thinks the owner just doesn't want the press.
Her denial, in some ways, makes this story more mythic. It surely happened. I have the proof. Should I put it on Instagram?