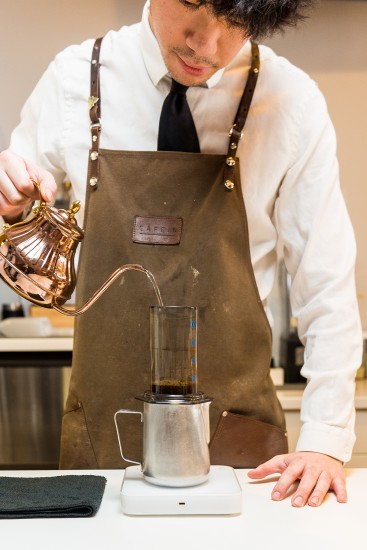 Just within the last handful of years did coffee shops and roasting warehouses start opening nonstop in Northern Virginia. It was about time we dedicated some coverage to the third-wave specialty shops and the obsession with grinders and a $50 tour of a roaster in Springfield. 
In the short time between closing January's Coffee Issue and now, when the full package of stories and listings lives online, there's been even more coffee news. 
Here's a little bit of what's been happening and some things we just couldn't squeeze into the cover story: 
The team behind the Manassas-based Heritage Brewing Company has been experimenting with coffee, roasting beans and starting a company, Veritas, selling nitro coffee in a can. Although they didn't reach their Kickstarter goal, they are going forward with Heritage Brewing Company Market Common, a restaurant, brewery and roaster in Arlington. [more]
Portside Coffee & Bakery is planning a March opening in the new Crescent Place development in Leesburg. [more]
The bulletproof coffee trend is still alive and now in bottle form. Arlington-based Sunniva combines coffee, coconut oil and a grass-fed, lactose-free milk protein for 12 ounces of "focused energy in every sip." [ARLnow]
Doggy day care Wag & Bone is planning for a location in Alexandria's West End with a cafe and bar called Bar.K. [WBJ]
Miscellaneous: Coffee flour can maybe save the world? [more] Get ready for a slew of high-tech, on-the-go coffee brewers like GINA and BRuX. [more, more]
Opening any day now: BABA, a coffee shop and bar underneath the Balkan-themed Ambar in Clarendon. [more]
Opening soon(ish?): Dolce & Bean in Del Ray. [more]
Opening soon(ish?): Chill Zone in Arlington. [more]
Now open: Crepes & Karak in Vienna, a spot for Turkish coffee, crepes, paninis and chapati, or Indian flatbread wraps. [more]
Speaking of Turkish coffee, an impassioned Turkish coffee-lover sent me an email after noticing the lack of coverage in the issue:
One of the reasons Turkish coffee never caught on in [sic] as a mass-produced beverage is that it is so difficult to make it correctly. Hand crafting Turkish coffee has always been a tricky business.
 Several years ago a Turkish company named Arzum came up with a brilliant solution. Their machine, which is elegantly designed, easily self-cleaning, and crafted to make perfect cups of Turk khavesi in three different sizes, also makes it easy to add the correct spices (or none, as in Istanbul style) and the exact amount of sweetener (I prefer Turkish honey from Trader Joe's).
 The machine is called OKKA. It may be purchased from an importer called Kafette in Arizona for about $300. It has just recently become available in 110v.
For Turkish-style coffee using OKKA, check out Nostos, brewing Loumidis grounds and selling it under the name Greek coffee for $4.
MORE | THE COFFEE ISSUE