Coffee already owns your morning.
One day soon(ish), it may imbue everything that washes over your lips.
The little stimulant that could is steadily seeping into even more of your favorite beverages. And we're not just talking about frothy nightcaps or darkly tinted martinis.
"Move over, Irish coffee; caffeine-based cocktails are getting an upgrade," USA Today declared in its recap of the workshop "Barista Meets Barman" at last year's Tales of the Cocktail, a New Orleans-hosted annual conference of beverage industry professionals.
Starbucks is blurring the lines with its new Espresso Cloud IPA, a craft beer layered with a shot of robust coffee.
Folks closer to home are warming to the idea as well.
Clifton Café mixes nearly a half-dozen espresso-based drinks, ranging from the seasonal Mr. Ginger (Bulleit bourbon, gingerbread, caramel sauce) to the intoxicating Amaretto Joyous (Disaronno, coconut, Ghirardelli dark chocolate). Catoctin Creek Distilling Company is cool with Virginia Coffee, a blend of Roundstone Rye, coffee concentrate (from local beans), milk and sugar syrup.
It all sounds great to coffee aficionado Juan Coronado.
The ThinkFoodGroup (José Andrés) alumnus-cum-founder of the Cuban-inspired Colada Shop says coffee isn't just a drink—it's a sensation.
"It's immediately accepted and goes to the positive side of the brain," he says of the bond coffee-lovers share with the eye-opening beverage. He's a fan of the acidity and oiliness that straight coffee adds to mixed drinks and notes when shaken, coffee naturally foams.
"Coffee is an element that will uplift your beverage," Coronado says, adding that it contributes "lots of texture and charisma."
Per Coronado, floating freshly ground beans on top of a cocktail adds an incredible aroma to the experience. He's also fond of infusing different spirits with coffee beans to produce an added kick. When mixing drinks, he turns to the iced stuff.
"Cold brew coffee is at its best for a bar," he says.
The remainder of the glass, Coronado says, can be filled with just about anything. He's had success blending coffee with light rum, vermouth, amaro and grappa. One thing he always keeps handy is demerara syrup, a brown sugar-based sweetener that pairs well with the bitter brew.
Taha Ismail, a partner at Mike Isabella Concepts, believes the mixing opportunities are pretty much limitless. He likes the vanilla and caramel notes bourbon conveys when partnered up with coffee. Ismail finds herbs and spices are indispensable—and also heartwarming.
A native of Morocco, Ismail says his mother used to make a latte-like drink of coffee steeped with spices and cut with milk. "It was our afternoon snack," he says.
One of Ismail's favorite mixers is becherovka, an herbal liqueur from the Czech Republic. He says the liqueur adds hints of fennel and allspice to his coffee drinks.
Ismail digs the way coffee works with fennel, cinnamon syrup and cardamom. All three are present in a signature drink served at Kapnos Taverna, and it just so happens to be the top-selling drink at the location within Reagan National Airport.
He combines cold brew coffee, mezcal, agave and bitters to form the Oaxaca Old Fashioned featured at Pepita Cantina. Ismail says there's another cold brew cocktail on the menu at Requin.
And he's just getting started.
Ismail is busy designing more coffee-related cocktails for folks looking to get their caffeine on at the forthcoming Isabella Eatery in Tysons Galleria. The all-Isabella food court is expected to include a dedicated coffee shop as well as a craft bar, providing fans of the hard stuff different options for their imbibing.
At the moment, the only coffee-enhanced cocktail flowing at the Sterling Colada Shop is the ginger beer-fueled Centinela, but he'd like to carve out room for other coffee-based cocktails as well.
Says Coronado, "It's a great moment for coffee."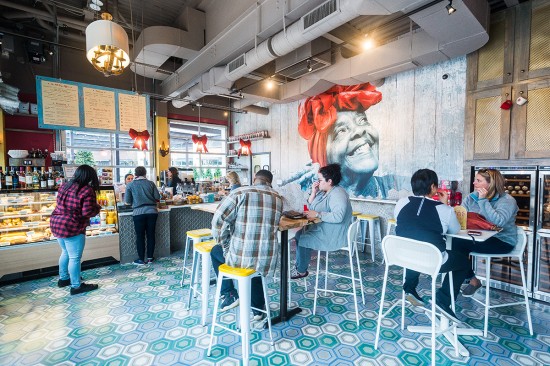 Coffee Cocktailing at Home
Build a better bar cart for caffeinated tippling with suggestions from Juan Coronado and Taha Ismail
• Cold brew coffee (keep in the fridge)
• Bacardi Ocho, Bacardi Black, Santa Teresa 1796, Ron Abuelo Anejo 7 Anos (or other aged rum)
• St. George NOLA Coffee Liqueur
• Becherovka (Czech Republic herbal liqueur)
• Licor 43 (Spanish liqueur)
• Chartreuse (French liqueur)
• Scrappy's Chocolate Bitters (or other woody or floral bitters)
• Demerara syrup (equal parts brown sugar and hot water by volume)