Don't fret about the weather. Embrace winter's chill with coffee, chocolate and bubbly celebrations—you can capture them all in a glass.
Beer
Brew Bocka, a bock lager made with Counter Culture coffee from Tryst in D.C., has a malty, smooth flavor that pairs well with spices like mole and jerk, as well as breakfast foods—of course.
This is one of the first beers from Old Ox Brewery's new head brewer Allison Lange, formerly with Port City Brewing Company. Lange, who earned a Ph.D. in biochemistry from Emory University, plans to use her scientific background to create what she calls "new, innovative beers" at the Ashburn brewery.
Check out Old Ox's Funky Face line, which uses a microbiology process: a kettle souring technique wherein lactobacillus is added to the brew to drop the pH and create a clean, tart flavor. After the desired sourness is reached, the beer is boiled to kill the bacteria, and the brewing process continues.  Look for Funky Face White Grape Sour Ale, a collaboration with Fabbioli Cellars using must, fresh juice with all of the parts of the fruit still in it from stems to seeds, which debuted last month. // Old Ox Brewery: 44652 Guilford Drive, Ashburn
Coffee
Flashback to summer nights when you order a Campfire Mocha at Virginia doughnut chainlet Sugar Shack. The warm specialty coffee—with espresso from Zeke's Coffee in Baltimore, marshmallow syrup, chocolate sauce, whipped cream and graham cracker crumbles—goes down like a liquid s'more. Order this warmer with a maple bacon doughnut and let the hint of salt cut the sweetness. // Sugar Shack Donuts: multiple locations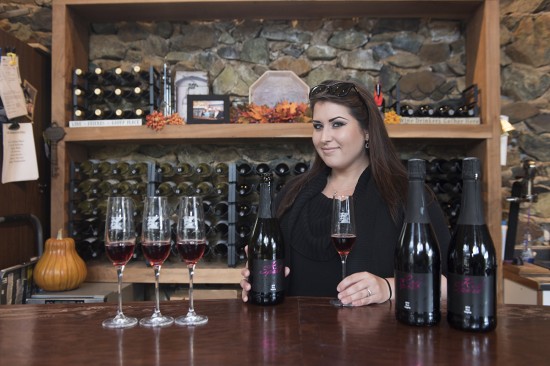 Wine
Winemaker Katie DeSouza (pictured above) thinks Casanel Vineyards & Winery Norton Red Spark 2014 could be the world's only bubbly courtesy of Virginia's native grape.
A mere 26 cases were made in 2014 as an experiment using fruit from Chrysalis Vineyards. DeSouza aged the juice for a year then followed a laborious, traditional method of making this sparkling wine. Secondary fermentation—when bubbles form—happens in the bottle, each of which is capped by hand, and then the sediment in the final product is removed, again, by hand, before the cork goes in. The entire process takes several years to complete and yields a fresh, berry-forward bubbly with a vibrant red hue. Because of the limited supply, the winery is hosting an RSVP-only public release party, with most of the bottles otherwise reserved for the winery's club members. // Norton Red Spark 2014 release party, Dec. 10-11 ($15 with light food). RSVP to info@casanelvineyards; Casanel Vineyards & Winery: 17956 Canby Road, Leesburg