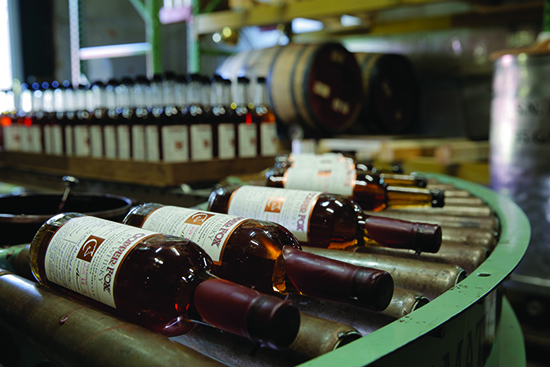 Spirits
"It's finally getting past the Prohibition hangover," says Michael Paluzzi of the sudden burst of distilleries in Northern Virginia. After 40 years in IT, he's building Falls Church Distilleries (with hopes to open this fall). It's one of about a dozen distilleries in the area, including a re-creation of George Washington's. Chuck Miller calls his Belmont Farm Distillery, started in the late '80s on 200 acres of Culpeper farmland, America's first distillery. And Adima Aniteye, a daughter of Liberian immigrants, will run a rum operation and make punch recipes she learned from her grandmother.
Because a majority of the distilleries are less than two years old, most of the spirits available are quick and clear. Some bottles are available at ABC Stores, but for the full range of products, it's best to visit each distiller. Here's where to find your drink of choice. // For a full list, check out our Guide to Distilleries.
Updated: November 12, 2019
BOURBON
Bowman Brothers Virginia Straight Bourbon Whiskey by A. Smith Bowman Distillery
VODKA
Deep Run Virginia Vodka by A. Smith Bowman Distillery
Belle Vodka by Old Dominion Spirits
Kopper Kettle Vodka by Belmont Farm Distillery
Divine Clarity Vodka by MurLarkey
Harvest Triple Distilled Vodka by Old House Distillery
GIN
Golden Gin by Belmont Farm Distillery
Imagination Gin by MurLarkey Distilled Spirit
Battle Standard 142 Gin by KO Distilling
Vir Gin by Copper Fox Distillery
Watershed Gin by Catoctin Creek Distilling Company
Sunset Hills Virginia Gin by A. Smith Bowman Distillery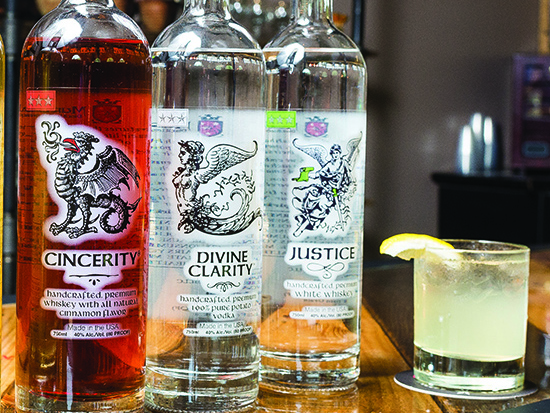 WHISKEY
Kopper Kettle Virginia Whiskey by Belmont Farm Distillery
Wasmund's Single Malt Whisky by Copper Fox Distillery
WHITE WHISKEY
Mosby's Spirit by Catoctin Creek Distilling Company
Justice Whiskey by MurLarkey Distilled Spirits
Virginia Moon White Whiskey by KO Distilling
RYE WHISKEY
Roundstone Rye by Catoctin Creek Distilling Company
Copper Fox Rye Whisky by Copper Fox Distillery
George Washington's Straight Rye Whiskey by Mount Vernon Distillery
RUM
George Bowman Colonial Era Dark Caribbean Rum by A. Smith Bowman Distillery
Kopper Kettle Dark Chai Spice Rum by Belmont Farm Distillery
Rum in white, amber and dark by Mt. Defiance Cidery & Distillery
Ryno Rum, in silver, amber, spiced and over-proofed by Old House Distillery
BRANDY + LIQUEUR
Cassis by Mt. Defiance Cidery & Distillery
Apple liqueur by Mt. Defiance Cidery & Distillery
Almond liqueur by Mt. Defiance Cidery & Distillery
Amaretto by Mt. Defiance Cidery & Distillery
Apple Brandy by Mt. Defiance Cidery & Distillery
Apple Brandy by Mount Vernon Distillery
Absinthe by Mt. Defiance Cidery & Distillery
Tart Cherry by Garofalo Artisan Liqueurs
Francesca Inzero Red by Garofalo Artisan Liqueurs
Ginger Lime by Garofalo Artisan Liqueurs
Night Life Coffee by Garofalo Artisan Liqueurs
Peach Brandy by Mount Vernon Distillery
Pearousia Pear Brandy by Catoctin Creek Distilling  Company
Wine
Northern Virginia is home to about 90 wineries, and Loudoun County alone has 40—the most in the state. Virginia has the fifth most wineries in the country with 280, including meaderies and cideries.
There are seven American Viticulture Areas in Virginia, though only one in Northern Virginia: Middleburg. And Northern Virginia is one of nine dedicated wine regions in the state. Because of the various climates, soils, terrains and weather patterns, Virginia doesn't have a break-out varietal (unlike many other famous wine regions).
The lesser known, and Virginia-native, Norton grape is the oldest native North American varietal. Other grapes popular here are petit verdot, petit manseng and viognier, widely considered the state's signature white.
In this year's Governor's Cup, the Virginia Wineries Association's list of the state's best bottlings, NoVA vineyard's dominated the gold medal category with: Breaux Vineyards, Delaplane Cellars, Fabbioli Cellars (2012 cabernet franc), Gadino Cellars, Granite Heights Winery (2010 Evening Serenade), Naked Mountain Winery & Vineyards (2012 petit verdot), North Gate Vineyard (2013 meritage), Notaviva Vineyards, Paradise Springs Winery, Sunset Hills Vineyard, The Barns at Hamilton Station Vineyards and Vint Hill Craft Winery. (The wines listed in parentheses were named to the elite Governor's Case.)
But locals aren't the only ones who care about our grapes. Food & Wine recently featured a spread of Virginia wine country showing chef José Andrés (try his Spanish food at Jaleo) frolicking at Boxwood Estate Winery, RdV Vineyards and Linden Vineyards. And if that's not enough of a list to get you sipping, download the app Virginia Wine in My Pocket (for Apple or Android).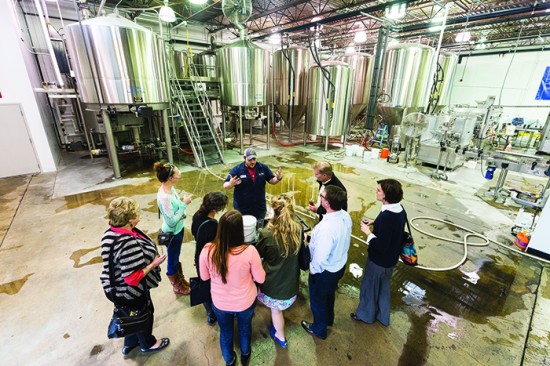 Beer
In 2012 there were probably about a dozen breweries in Northern Virginia, and that's including chains like Rock Bottom Brewery. Within three years that number doubled, and by the end the year there could be 60, including newcomers Black Hoof Brewing Company, Black Walnut Brewery, Brew Republic Bierwerks, and Water's End Brewery … to name a few. It's been a swift transition from Bud Light bars to all-local taps. Here's a guide on how to get started from industry insiders (for a full list, see here):
Bill Butcher of Port City Brewing Company: Try the Orange Whip IPA from Mad Fox Brewing Company.  Butcher calls Bill Madden, the owner and head brewer of Mad Fox, a "stalwart of the beer scene." Open in Falls Church since 2011, Butcher adds, there are always some "beer aficionados" to talk shop at the "very friendly and crowded bar."
Bill Madden of Mad Fox Brewing Company: Try any of the IPAs coming out of the new Ocelot Brewing Company.  Madden gets dorky, citing the Sterling brewery's great job with "the body, the nose, the aroma" of the IPAs. He also likes their sours and forecasts sours will be a new tap staple. Madden says that just as breweries now must keep multiple IPAs on draft, soon NoVA drinkers will demand a variety of sours.
Adrien Widman of Ocelot Brewing Company: Try the New England-style IPAs from Aslin Beer Company.  Widman describes this style as "cloudy and hazy and full of hop character." He'd go as far to say they're "juicy," though they get that fruity flavor from hops, not real fruit. Widman sees New England-style as a growing trend in the state, though he says it's been around for less than 10 years in New England itself. Aslin's Orange StarFish IPA is a favorite of Widman's.
Andrew Kelley of Aslin Beer Company: Try the wild ales at Pen Druid Brewing. The Sperryville brewery collected wild yeast and bacteria from Rappahannock County, best to represent the terroir, for its small line of beers. From what Kelley tasted, "It's a very Belgian-esque yeast; a lot of saison characters; a little more dry … and the IPAs are juicy." He's a fan of the barrel-fermented Neptude IPA. (By the way, brewery owners and brothers Lain, Van and Jennings Carney are also in the psych-rock band Pontiak.)
Jennings Carney of Pen Druid Brewing: Try the smoked beers at Hopkins Ordinary Ale Works.  A one-barrel brewhouse in the cellar of a bed and breakfast in Sperryville, Hopkins Ordinary keeps a small list of signature beers on tap plus seasonals. Carney's liked "a couple saisons, porters and smoked beers," and especially "the beer garden with the big elm tree."
Who to follow on social media
@normsbeerandwine: Not the most glamorous pictures, but one of the most well-stocked beer stores in the area will let you know what's new to sip.