Eleven-year-old Chloé Bryan of Centreville is no stranger to the stage. After years of performing in the Northern Virginia theater scene, she landed a role in the hit Broadway musical School of Rock. The musical, based on the 2003 movie of the same name starring Jack Black and featuring music by Andrew Lloyd Webber, debuted in New York in 2015 and has since expanded with a run in London and a U.S. tour in its future. We spoke to Bryan, who shared what it's like to be 11, working six days a week on the stage while keeping up with schoolwork, and offered advice to aspiring young performers.
When did you start performing in School of Rock on Broadway and what was your role?
I debuted on the stage last fall as part of the ensemble. My official role is Madison, one of the roadies. I also understudy for the principal role of Tomika.
How did you get involved in professional performing?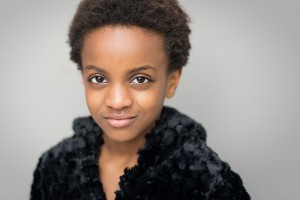 School of Rock is my first professional performance, but I started performing in theater when I was just turning 5 years old. My first performance was at the Harmonia School of Music in Vienna. I loved performing so much that my parents enrolled me in a summer theater camp at George Mason University. I also took private voice lessons at Lopez Studios in Herndon.
In the summer of 2013, I was accepted in an intensive at Broadway Artists Alliance in New York City. One of my coaches in the program recommended that I seek representation from an agent.  My agent submitted me for auditions, including School of Rock. I auditioned once before but didn't get the part. I was sad and hurt that I didn't get picked, but I didn't give up because I knew I wanted to be on Broadway.
What is a typical week like for an 11-year-old on Broadway?
A typical week is very busy. It's all about school and work. I go to school Monday through Friday and perform eight shows a week. Mondays, Tuesdays and Fridays are evening shows. On those days, I am done with school at 2:45 p.m., do my homework at home, play with my dog, have dinner and report to the theater an hour before the show starts. When the show ends, I stay around to sign autographs for fans and walk with my mom or dad back to our apartment. I always eat a second dinner because I am famished after all the dancing and jumping around. Bedtime is usually after midnight.
Wednesdays are matinees only. I leave school around noon. The show starts at 2 p.m., but I usually report to the theater an hour before. Because we finish earlier on those days, I have more time to relax at home, play with my dog or play video games. On Thursdays, I only go to school and relax with my family after school because there are no shows.
Saturdays and Sundays are different: no school, but we have two shows on those days.
You must not get a lot of free time. What are some things you like to do in your limited spare time?
No, not much free time but when I do, I like to play video games and watch Netflix. Sometimes I go out and have playdates with my friends from School of Rock.
Tell us about your audition for School of Rock.
The last audition was long and nerve-wracking because I had auditioned for School of Rock before and I didn't think they would want me back after I didn't get the part. I got called in and performed in front of the casting team and was told to wait in the [other] room. Another girl was asked to stay as well, and we both had to perform choreographed moves again before being sent home. The next day, my agent called my mom to let her know that I had been cast. I was super excited.
Do you have any advice for other young performers hoping to break into show business?
The main thing is that you must believe that you can accomplish anything you want to and work for it, which means be prepared for your auditions. Have your headshot and resume ready, even if your resume doesn't have much on it. Make sure you review the audition materials that were given to you, including songs and sides. Auditions are part of a performer's life. If you don't get the part, it doesn't feel good, but you cannot let it discourage you from auditioning again and again.
How can parents support aspiring kid actors?
My mom says that your parents must be on your side, support you and believe in you to help make it happen. As a kid, you must rely on your parents to do a lot of the work. My mom did a lot of research on musical theater summer intensives in New York before selecting Broadway Artists Alliance. She also researched the process for signing me with a good agent.
Is it difficult to concentrate on your schoolwork?
You need to stay devoted and disciplined about your schoolwork. If you don't perform well at school, you cannot perform on stage.
School of Rock is currently showing at Winter Garden Theatre in New York City with shows planned through November. Find tickets here.