Arlington mom Maria Vogelei was frustrated with the out-of-touch, dingy indoor play space options for her young daughters.
"Arlington is such a vibrant community with lots of young families, so I always found it surprising that there weren't more indoor places to take our girls to," says Vogelei. "The few options that we did have were completely outdated and often located in dark, windowless basements."
After over a decade of working in marketing and branding, Vogelei decided to put her dreams to work and will soon open Nook, a modern, clean indoor play space geared toward children ages 0 to 5 and their families. She designed Nook to encourage more creative, imaginative play among children.
"We removed all of the overstimulating elements—trampolines, slides, ball pits—that you typically find in indoor play spaces and replaced them with simple wooden toys and modern play structures that resemble installation art," Vogelei says. There are several "nooks" throughout the space, each with its own play theme: building, art, music, costumes and one specifically designed for infants. To keep things fresh, play themes will change throughout the year.
"We've also designed the space with parents and caregivers in mind," Vogelei says. "They are half the equation, and most play spaces forget that they are customers as well. So we've designed the space in neutral tones with modern amenities to create a relaxed space for parents and caregivers to engage their kids in play."
Nook also has a separate space to host birthday parties, parent workshops and classes throughout the year. The play center plans to host book signings by children's book authors, holiday-themed special events, musical performances and artists in residence.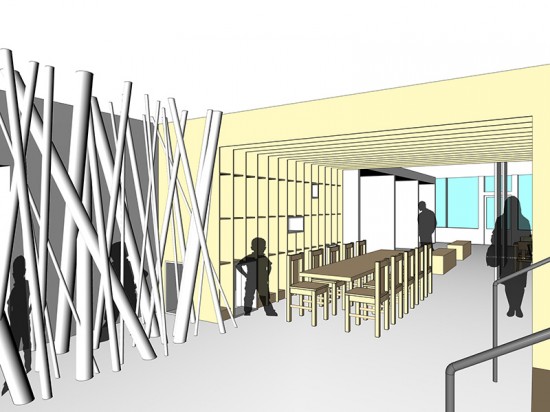 Nook was designed by award-winning architect and furniture designer Ben Mickus and interior design firm Design Vice."We've hired the best talent in the industry to create a space that is truly outstanding," says Vogelei.
Monthly membership, which gives families unlimited access to Nook as well as discounts on parties and classes, is $120. There's also a 10-day pass for $150 and a one-day pass for $20.
Nook is expected to open in mid-October and will be open daily from 9 a.m. to 5 p.m. // Nook: 5649 Lee Highway, Arlington