By Cynthia Long
In a packed auditorium of seventh- and eighth-graders at Gunston Middle School in south Arlington, Kwame Alexander explodes onto the stage like a rock star, and for more than an hour he's got the students cheering, laughing and jumping up and down in their seats. Middle schoolers can be a tough crowd, but not for this Herndon-based poet, children's author and winner of the 2015 Newbery Medal for his book The Crossover.
Alexander's school visits are a one-man show with the fast-paced energy of a basketball game tempered with the imagery and poignancy of a favorite poem. That's no accident—his award-winning novel is a hybrid of poetry and prose about 12-year-old twin basketball players, with verse that matches the rhythm and pulse of the sport.
"With a bolt of lightning on my kicks . . . The court is SIZZLING. My sweat is DRIZZLING. Stop all that quivering. Cuz tonight I'm delivering."
Alexander followed The Crossover with Booked, another sports- and preteen angst-themed novel told in verse about a 12-year-old soccer player who grapples with family problems, school bullies and a major crush on the girl of his dreams. The stories are universal, but in Alexander's case they're told from the African American preteen perspective, a growing voice in the world of children's literature but one that's still overshadowed by white narratives.
Alexander is a proponent of We Need Diverse Books, a grassroots organization based in Bethesda, Maryland, created to address the lack of diverse narratives in children's literature and promote books that reflect and honor the lives of all young people. He says we need diverse books to be mirrors and windows so people can not only see themselves in literature but also see outside themselves, which makes them more aware of our connections as human beings.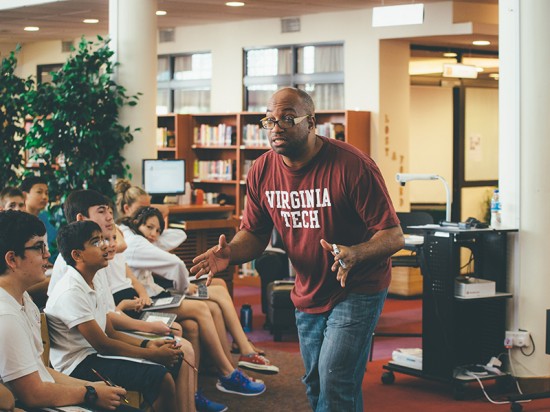 It Begins with Authenticity
"I was a black boy who laughed, had crushes, cried, played, felt and had friendships that were troubling," he says. "I want my writing to be a mirror for those kids who look like me and a window for kids to look at a different life and recognize it as very much like their own."
During school visits, students certainly look at Alexander and recognize him as their own. He may be a little taller (he's 6 feet, 4 inches) and a little older (he's 47), but running back and forth across the stage, rhyming and rapping, dressed in a Triumph motorcycle T-shirt, jeans and Converse sneakers, he's just as fun, energetic and unpredictable as they are.
Ask him about his style—in writing, performing or just living—and he says it's unparalleled.
"I'm LL Cool J's 'Rock the Bells,' Shakespeare's 'Sonnet 73' and Pablo Neruda's 'Tonight I Can Write the Saddest Lines,'" he says. "I'm a combination of all I've loved or admired, but if I have one mission on this earth, it is to show young people (and to remind adults) that poetry is the coolest thing on the planet and that it can transform you and make you a better human."
Poetry and literature were an important part of Alexander's family life, and books lined the shelves in almost every room of their home. Alexander and his siblings (he's the oldest of two sisters and a brother) were constantly told by their parents to read, read, read.
And he did, until he was about 11, when his family moved from New York to Chesapeake.
"It was around that time that reading became something that was uncool, at least in my set of friends, and I began to downplay that part of life," he says.
He tried to find other ways to be cool because, like any middle school student, he wanted the other kids to like him. He wanted girls to like him, too, especially one he had a crush on. So in pursuit of coolness, he went out for football but got "knocked flat" by the bigger guys. He tried basketball, but when he went to shoot, the ball soared right over the net and hit the goal. Finally, he discovered tennis and wearing corduroy shorts and colorful collared shirts that were all the rage in the 1980s. He won match after match and became one of the best players in the district. At one of his matches, he looked up into the stands and saw his crush smiling at him.
"Before I knew it I was about to go to college and had never been on a date; I'd only liked this one girl. I wanted to take her to the prom, but I hadn't even asked her out. So I decided to stand up on a table in the cafeteria and recite her a poem."
lips like yours
ought to be worshipped
see, i ain't never been
too religious
but you can baptize me
anytime
Alexander took her to the prom that spring.
He tells the story of his crush to the kids at Gunston and then slowly, deliberately, recites his poem. The auditorium falls silent; the only sounds are his voice and the low hum of the ventilation system. But the moment he utters the last line, the room erupts in whoops and hollers and cheers.
"At last, I found my cool factor," he tells the kids. "Poetry allowed me to connect with girls in ways athletes and other boys couldn't."
Ultimately, it was poetry that led him to his wife, but it wasn't exactly a straight path. At Virginia Tech, he started out a pre-med major with plans of becoming a doctor.
"I wanted to get as far away from the world of books as possible because of my parents," he says.
His mother was an English teacher; his father was a literacy professor, author and book publisher. Both of them are graduates of Columbia University Teacher's College in New York.
Just like Nick, the main character in Alexander's novel Booked, is forced to read a dictionary written by his father, Alexander had to read his own father's books, all 16 of them— "education tomes nobody was interested in."
He also had to work along with his siblings at his father's publishing company, licking stamps and stuffing envelopes and eventually going to trade shows where he'd sell the books his father published.
"After all of that, I decided I was done with the world of books," he says.
He still enjoyed reading and writing poetry, but he decided he wanted to pursue a career in medicine. Everything was going fine with his plan until he came to a course called organic chemistry. After that, he switched his major to English.
At the same time, one of his most beloved and personally influential poets became a visiting English professor at Virginia Tech, a woman Alexander remembers first meeting when he was just 6 years old within the pages of her book Spin a Soft Black Song. The poet was Nikki Giovanni.
come nataki dance with me
bring your pablum dance
with me
pull your plait and whirl around
come nataki dance with me
His mother would regularly read to him from the book at bedtime, and he remembers begging her to name his baby sister Nataki.
"So there I was in college, floored by organic chem, and I thought, let me get back to something I know. Let me get back to this thing that maybe I like, that probably I love," he says. "I rekindled the poetry flame, and I never turned back."
It was while he was in college that he first met his wife. He was a sophomore at Virginia Tech, she was a freshman at Randolph Macon, and they were attending a student leadership conference at the College of William and Mary. A play Alexander wrote and directed was staged on the opening night of the conference, and after the performance he got a standing ovation from more than 700 students from all over the country.
"I was feeling like the man, and when we all went back to Embassy Suites where the students were staying, I decided to knock on every hotel door and introduce myself," he says. "I was thoroughly enjoying all of the adulation, but at one room there was a girl who didn't bother coming to the door to meet me. That girl ended up being my wife."
They eventually became friends, and when Alexander wanted it grow into something more, he started writing her poetry.
"I wrote her a poem every single day for a year," he says. "She still has those poems. She won't let me publish them, but she married me. So yes, words are powerful."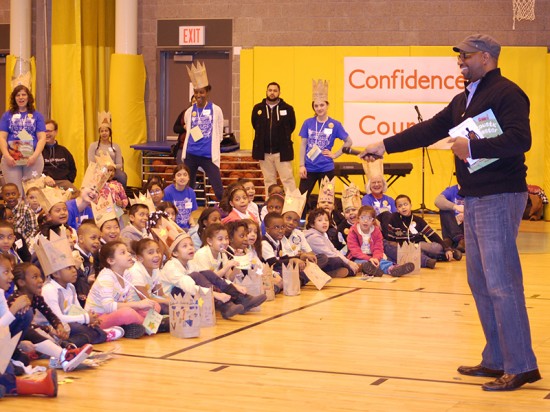 Preaching Poetry
Alexander got his professional start at the Gunston Arts Center through the Arlington Cultural Affairs Department, participating in an incubator program. He received a grant that allowed him to write poetry, a book and produce a play. And later, when he moved to Reston, he published his first children's book, Acoustic Rooster. He set up a table to sell copies at the farmers market. "So many parents pushing their strollers stopped and bought books," he says. "The people of Northern Virginia have made me feel like I have a home as an artist."
Now Alexander crisscrosses the country to tell young people about the transformative power of poetry and language. He has an incredibly hectic schedule and can do three to four school visits a week, plus some book signings and readings thrown in here and there.
How does he find the energy? He has no idea.
"And I don't want to stop to think about it either because then I'll probably go a little crazy," he says. "But the cool thing is, I love it."
As he's moving around the stage at Gunston, he's interacting and being inspired. He refuels by continually feeding off the energy of the students. He admits to being nervous in the beginning of each visit. In fact, he says during the first five minutes he's a wreck. But then the kids come in, he watches how they're acting, where they're sitting, what their energy level is, and then he decides how to begin.
"I have about 25 things that I do, ice breakers like a call and response (I say 'Cross,' you say 'Over,' 'Cross!' 'Over!') to get the kids engaged quickly and release some of my nerves," he says. Then they get down to the real work of discussing the books, talking about poetry and asking questions.
He says kids from every corner of the country are mostly the same: a blank page on which he hopes to imprint an understanding and appreciation of the ancient language of love. He says kids go from, "Aw, man, I gotta listen to this poet?" to wide-eyed wonder to "Hey Kwame, can you autograph my arm?"
Unfortunately, he's seen some kids targeted for discipline during his visits, and he's noticed that a lot have been black boys. Usually it's because they're a little loud and a little rowdy and thought to be disruptive. When one boy was asked to leave the assembly, Alexander intervened.
"I said, 'no, leave him alone. I got this.' Because I was that kid. I was loud and boisterous and enthusiastic," he says. "All these kids are the same. They each have their own issues, but they're essentially the same, with the same value, the same worth. We all have a responsibility to help them all reach their potential. You don't know if have the next Newbery winner on your hands, so you need to treat every kid like they have the ability to share something significant with the world."
Alexander is sharing his love of literature and language with the world through his 21 books, including middle grade, picture and poetry books and a young adult novel; his speaking engagements; and LEAP for Ghana, an international literacy program he co-founded that builds libraries and provides literacy professional development for teachers.