By Angela Guzman of Learning Liftoff, an organization backed by K12 that delivers resources and information that promote learning excitement and progress among preschool through 12th-grade students.
The fall season brings forth the back-to-school season and great book releases. As your children wind down from the stress-free summer days, begin to shift gears and get back into their school routine, maintaining a desire to read can be difficult. Before school starts, talk with your child and see what they're interested in reading. There are a number of awesome new titles that should be on every student's reading list.
Ages 2-5 (grades: Pre-K-kindergarten): Rosie Goes to Preschool
"It's the first day of preschool, and the narrator, Rosie, knows everything a new preschooler needs to know. Rosie introduces the reader to her cubby, her teacher, her reading circle, her music class, her lunch table, and more. With gentle, reassuring language and Katz's signature bold, bright, and sweet artwork, Rosie Goes to Preschool will surely be a hit among the legions of children who have grown up reading Katz's books."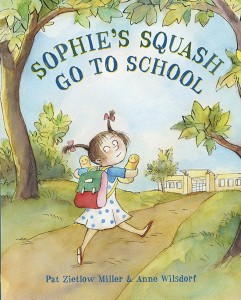 Ages 3-7 (grades: Pre-K-second): Sophie's Squash Go To School
"This charming sequel to the beloved Sophie's Squash is the perfect antidote to the back-to-school jitters. Sophie goes to school for the first time and has no interest in making friends that aren't squash. Here's a gently humorous read-aloud that proves that making friends, just like growing squash, takes time.
On Sophie's first day of school, nobody appreciates her two best friends, Bonnie and Baxter, baby squash that she grew in her garden. Even worse, one classmate, Steven Green, won't leave Sophie alone. He sits by her at circle time. He plays near her during recess. And he breathes on her while she paints. Steven just wants to be friends, but Sophie isn't interested. Still, Sophie knows that her squash friends won't last forever. Maybe it would be nice to have some human friends after all."
Ages 3-7 (grades: Pre-K-second): My Favorite Pets
"A hilarious picture book from The New York Times bestselling author of The Penderwicks, Jeanne Birdsall, and The New York Times bestselling illustrator, Harry Bliss, about one child's outrageous school essay on his "pet" sheep.
Seventeen sheep plus one Gus means that life is never dull on the farm! From National Book Award-winning author Jeanne Birdsall and The New York Times bestselling illustrator Harry Bliss comes a hilarious tale about man's other best friend."
Ages 3-7 (grades: Pre-K-second): Monkey Not Ready for Kindergarten
"Kindergarten is only a week away … but Monkey is not ready. What if he gets on the wrong bus? What if they don't have any red crayons? What if he doesn't like the snacks? What if he doesn't make new friends? There are so many thoughts running through Monkey's head!  But step by step, his family eases his worries: they get him a new backpack, help him read books about school, prepare his lunch, and make sure Monkey is excited—and ready—for the Big Day."
Ages 3-7 (grades: Pre-K-second): R is for Rocket
"Learn the ABCs with Rocket, the dog who inspires kids to read and write! This irresistible alphabet book from the creator of the The New York Times bestsellers How Rocket Learned to Read and Rocket Writes a Story is sure to appeal to kids, parents, teachers, and librarians."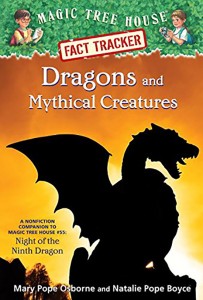 Ages 7-10 (grades: second-fifth): Dragons and Mythical Creatures
"Track the facts about dragons, unicorns, mermaids, and more—with Jack and Annie!
When Jack and Annie came back from their adventure in Magic Tree House Super Edition #2: Night of the Ninth Dragon, they had lots of questions. What do tales about dragons have in common? Are mermaids real? How do unicorns use their horns? Find out the answers to these questions and more as Jack and Annie track the facts about their favorite creatures from myths and legends. And just what might some of those creature sightings really be?
Filled with up-to-date information, photographs, illustrations, and fun tidbits from Jack and Annie, the Magic Tree House Fact Trackers are the perfect way for kids to find out more about the topics they discover in their favorite Magic Tree House adventures. And teachers can use the Fact Trackers alongside their Magic Tree House fiction companions to meet Common Core text pairing needs."
Ages 8-12 (grades: third-seventh): Voyagers: The Seventh Element
"Earth is in danger! The only thing that can save our planet are six essential elements that can fuse into a new source of clean energy. But the elements are scattered throughout the galaxy. And it's up to the Voyagers—a team of four remarkable kids and an alien—to gather them all and return to Earth.
The Voyagers have made it to the last planet. If they complete this mission, they can finally go home. But they've been in space a long time, and it's starting to take its toll. When one of the crew falls deathly ill, the race back to Earth becomes even more urgent. They just have to combat fire-breathing dragons and an evil alien clone out to sabotage their every move. No big deal.
At least the Voyagers have almost every element they need. Only one more to go—six elements to make the Source and save the world. So why is there a space in the Element Fuser for a seventh?"
Ages 8-12 (grades: third-seventh): Red
"Red is not afraid of the big bad wolf. She's not afraid of anything—except magic. But when Red's granny falls ill, it seems that only magic can save her, and fearless Red is forced to confront her one weakness.
With the help of a blond, porridge-sampling nuisance called Goldie, Red goes on a quest to cure Granny. Her journey takes her through dwarves' caverns to a haunted well and a beast's castle. All the while, Red and Goldie are followed by a wolf and a huntsman—two mortal enemies who seek the girls' help to defeat each other. And one of them just might have the magical solution Red is looking for."
Ages 8-12 (grades: third-seventh): Supergirl at Super Hero High
"Supergirl is the new girl in school—and she just also happens to be the most powerful teenager in the galaxy!
After losing her home planet of Krypton and everyone she knows, Supergirl has made a new home on Earth, but she's isn't so sure that Super Hero High School is the right place for her. Wonder Woman, other new friends, and a kindly librarian make her feel welcome, but breached inter-dimensional portals, invading alien armies, and bad dreams shake her confidence. It's not easy being a super hero and a high school student all at once!"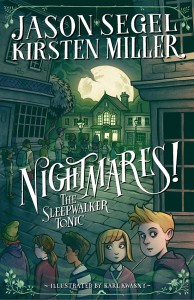 Ages 8-12 (grades: third-seventh): Nightmares! The Sleepwalker Tonic
"You thought the nightmares were over? Nightmares! The Sleepwalker Tonic is the sequel to Nightmares! Charlie Laird has a dream life—he has a weirdo stepmom who runs a herbarium, he lives in a purple mansion with a portal to the Netherworld and since they escaped from the Netherworld, he and his best friends have been sleeping like babies.
But Charlie can't shake the feeling that something strange is afoot. Charlotte's herbarium used to be one of the busiest stores in Cypress Creek. Now her loyal following is heading to Orville Falls for their herbal potions. Weirder, though, Orville Falls is suddenly filled with zombies. At least, they sure look like the walking dead. Rumor has it that no one's sleeping in Orville Falls. And Charlie knows what that means."
Ages 12 and up (grades: seventh and up): Everything, Everything
"My disease is as rare as it is famous. Basically, I'm allergic to the world. I don't leave my house, have not left my house in seventeen years. The only people I ever see are my mom and my nurse, Carla.
But then one day, a moving truck arrives next door. I look out my window, and I see him. He's tall, lean and wearing all black—black T-shirt, black jeans, black sneakers, and a black knit cap that covers his hair completely. He catches me looking and stares at me. I stare right back. His name is Olly.
Maybe we can't predict the future, but we can predict some things. For example, I am certainly going to fall in love with Olly. It's almost certainly going to be a disaster."
Ages 14 and up (grades: ninth and up): The Darkest Corners
"For fans of Gillian Flynn and Pretty Little Liars, The Darkest Corners is a psychological thriller about the lies little girls tell, and the deadly truths those lies become.
There are secrets around every corner in Fayette, Pennsylvania. Tessa left when she was nine and has been trying ever since not to think about what happened there that last summer. She and her childhood best friend Callie never talked about what they saw. Not before the trial. And certainly not after.
But ever since she left, Tessa has had questions. Things have never quite added up. And now she has to go back to Fayette—to Wyatt Stokes, sitting on death row; to Lori Cawley, Callie's dead cousin; and to the one other person who may be hiding the truth. Only the closer Tessa gets to what really happened, the closer she gets to a killer—and this time, it won't be so easy to run away."
---
Original article can be found at Learning Liftoff's website. All book descriptions are courtesy of the affiliated publishing houses. For more in-depth title descriptions, visit the associated book link enclosed in the article.