By Juliane Kim
Laura Clerici's foray into art started with her work at the State Department. She learned how to paint icons while working at the American Embassy in Russia during the 1990s and found an affinity for Byzantine iconography, a religious style of painting in the Orthodox Christian tradition. Ditching the government job in 2006, she now paints full time and volunteers as a chaplain at Inova Alexandria Hospital. We caught up with her to discuss her work.
You approach your art as a spiritual practice. Elaborate on that.
It's an art form, but it's also used as a spiritual practice primarily in monasteries and some individuals in the Orthodox East. I started doing iconography in Russia, and I was in a senior position in the American Embassy. Things were difficult. I found that doing the iconography helped me to settle down, helped me to be more productive and helped me to deal with my own turbulent emotions around all of the pressure that I was under. You're centering and focusing on the image that you're working on and the connection to the divine.
Would you say that this was a way for you to connect to the Russian people?
[In an embassy] we want to have good relationships with the people in the host country. There was an article written about me in one of the local newspapers, "Here's this woman: She isn't Russian, she isn't Orthodox and look at what she does." It was a real positive thing for the embassy.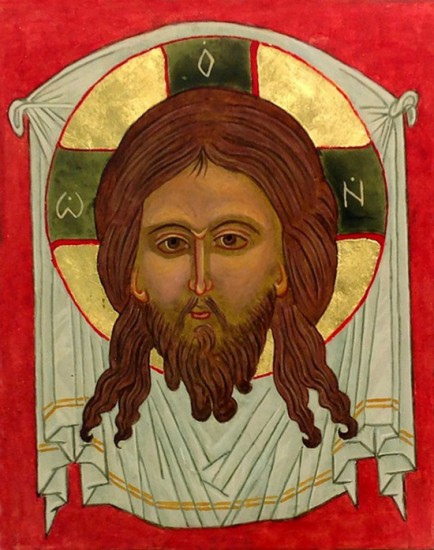 How do you choose the topics of your paintings?
Sometimes it's what I want to do, like right now I really want to do one of Joan of Arc. Sometimes it's because of a commission. Sometimes, I get seized by an idea. I'm in the process of designing an icon of women in early Christianity.
How long does it take for you to complete a painting?
My technique involves putting a layer of color down, waiting for it to dry and then putting down another layer and then another layer so that it's got like seven to nine layers of color in any one place. I usually count on painting for two weeks and letting it sit for at least a week and then putting the varnish on and letting it sit for a couple of days before I give it to somebody. It's very labor-intensive, but it's about the process as much as the product.