By Anjelica Michael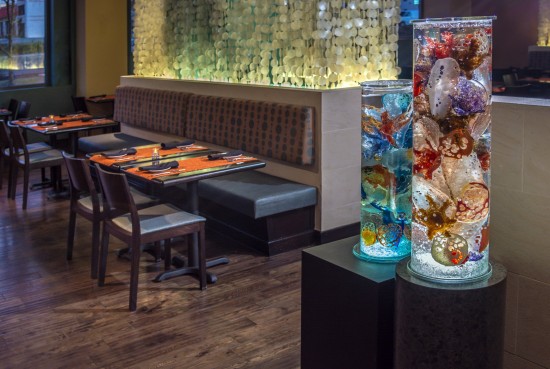 Sea Pearl restaurant in Falls Church recently added a new artistic addition thanks to Alison Sigethy. The local artist, whose studio is in Alexandria, installed 10 of her "Sea Core Tubes" in the restaurant. These installations are bubbling glass tubes with elements inspired by the ocean, lending to the atmosphere within the restaurant. These unique pieces have earned Sigethy a nomination for the NICHE award in the home furnishings category. We caught up with Sigethy about the new installation and her art: 
NVM: How did you feel when the owner of the restaurant contacted you with interest in your Sea Core Tubes for her restaurant?
AS: A mutual friend who use to work in the interior design trade suggested my work to the owners and made the introductions. When we met, it was obvious the Sea Cores would be perfect there. I love the decor of the restaurant and knew the Sea Cores would make it even better, so it was quite a thrill. It is also exciting to have so many in one location.
Is the ocean a main source of your inspiration? What else inspires you?
I do love the water, but as an artist, I am really excited by motion. I love kinetic art and was looking for ways to get more life and motion into my work when I thought to use bubbles.
I know you use recycled glass whenever you can, is there any other ways you try to be eco-friendly? 
I am particularly fond of using structural glass — windows, storm doors, shower doors, things like that — because, unlike bottle glass, structural glass does not get recycled.
How long does the process take to create one of the tubes?
There are as many as 100 individual components in a large Sea Core, so typical turnaround is about three months.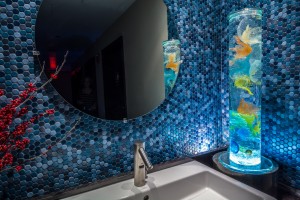 Since there are 10 different Sea Core Tubes throughout the restaurant, how did you decide where each would be installed? 
In some cases, restaurant owner, Ly Lai, knew where she wanted them. One example is the sink at the end of the hall where the bathrooms are. The bathroom area is unusual and dramatic. When planning the restaurant, she had originally wanted a water-wall there. For a lot of reasons, that never happened, but Ly still liked the idea. So, when we started talking about it, that was the first place she mentioned.
In the lounge, the placement was pretty obvious. There is a rhythm and repetition to the seating areas, so we just went with that and separated each seating nook with a Sea Core. They divide the space beautifully and make each area feel more private.
Have you had any interest by restaurant patrons to have installations in their homes or businesses?
Yes, I sold one to a patron the day I installed, and am talking to another. I've also had several restaurant patrons visit my studio, so the work is getting noticed! My secret hope is that people connected with Fairfax Hospital will spot them. The sculptures are so calming and relaxing to be around, I would love to put one next to every chemotherapy or dialysis chair. I'm certain they would help patients feel better and make their treatment time pass more quickly.
Congrats on becoming a NICHE award finalist! What does this recognition mean to you considering there are 2,000 entries on average?
Of course it's a thrill. Niche is such an established entity in the fine craft world, it's an honor to be selected.
See Alison Sigethy's pieces at Sea Pearl in Merrifield Town Center, or visit her website www.alisonsigethy.com