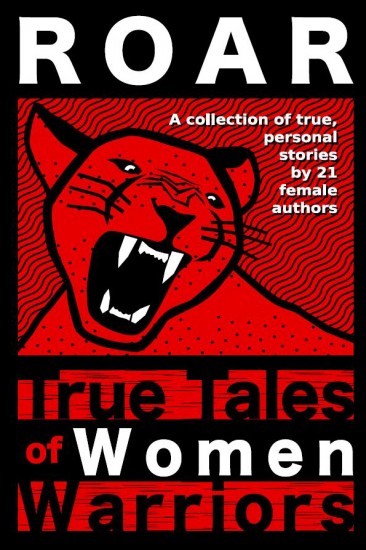 A new anthology of creative nonfiction written by women across the nation and Canada, including seven from Northern Virginia, examines the issues and inequalities women face everyday and their resilience in the face of them.
Roar: True Tales of Women Warriors arrived on shelves at the end of April from the minds behind Better Said Than Done, a live storytelling event series out of Fairfax. Roar comprises true personal essays by 21 women authors, 12 of whom are from the D.C. region and seven from Northern Virginia specifically. The authors span backgrounds and professions: writers, radio and podcast hosts, doctors, lawyers and one former public official. Roar benefits from that diversity, offering essays on family life, inequality in the workplace, sexual harassment and violence and global perspectives.
Jessica Robinson, an author and the founder of Better Said Than Done, contributed "The Talk" to Roar.
"I launched Roar, the show and the book, because I know I'm not the only woman with a story to share," Robinson said. "Storytelling is powerful: by hearing a personal story, we learn from that person's experience, empathize with that person and often change our own thoughts after sharing in their experience."
"The Talk" chronicles Robinson's conversations about sex with her mother and what was left out of those discussions, including her mother's rape.
"I only found that out after coming to terms with my own rape, and that changed the way I will talk to my kids about sex," Robinson said.
Another of Roar's authors is Vienna's Bushra Jabre, who works as the senior communication adviser for the Johns Hopkins Center for Communication Programs and served as UNICEF's regional adviser in health education and women's programs in Amman, Jordan. Her essay, "An Image of Womanhood," documents her time working with UNICEF and the women she encountered in Saudi Arabia. In "Perseverance," Urmilla Khanna of Annandale writes about moving from India to the U.S. and pursuing a medical license in the '70s. Kim O'Connell, an Arlington resident who has also written for The New York Times and The Washington Post, contributed "Mary's Rock," an essay about hiking in Shenandoah National Park that recalls her experience with a stalker and copes with the lasting fear.
Arlington's Sandra Hull, who wrote "Five Ounces of Milk," has participated in the Better Said Than Done live shows since 2015 and says it connected her with an audience that saw themselves in her stories.
"For far too long, I felt that my experiences were unique, but not in a good way, as if I failed at human-ing," Hull said. "When I started telling my stories on stage, I was amazed when people approached me after shows to say how much they identified with what I'd talked about."
Robinson is proud of what Better Said Than Done has achieved, but Roar isn't the endpoint. There are more stories to be told.
"We've come a long way, but we have a long way to go," Robinson says. "If women are to be treated as equals, with respect, under the law and under our professional, domestic and medical roofs, women need to share their stories," she said. "It is both sad and comforting to know other women have been through the fire and come out the other side, with scars, yes, but as survivors."
All of the proceeds from Roar, which can be purchased in print and as an e-book, benefit the National Network to End Domestic Violence. On Saturday, May 13, some of Roar's authors will celebrate the book's debut with readings at the Auld Shebeen in Fairfax from 2-4 p.m.