Have a hankering for something new? Or maybe you're just looking to meet new people? There are a ton of hobby groups to check out.
VA Lightsaber Duelists
If you're a fan of Star Wars or just want to relive your childhood by whacking strangers with plastic sabers, then VA Lightsaber Duelists invites you to join them. Meetups typically take place in Fairfax and give members a chance to chat with others about building their own saber and, of course, the opportunity to duel with other saber enthusiasts.
Night Falls
Night Falls is a local chapter of One World by Night, an international live-action roleplaying group with interactive storylines. Members create costumed characters to portray in loosely connected storylines with other chapters. The group holds biweekly meetings in Falls Church as well as an annual three-day event at Prince William Forest Park.
Urban Explorers
Explore the abandoned structures scattered around the DMV area as you camp, hike or even kayak to locations with fellow adventurers. Past events include tours of Baltimore's Greenmount Cemetery, Carrie Furnaces in Pennsylvania and St. Elizabeth's hospital in D.C., plus happy hours. Meetup locations vary but are typically in the DMV area. Some tours must be paid for, and members under 18 must be accompanied by an adult.
Northern Virginia Gamers
For nearly three decades, players of all ages from across NoVA have gotten together to compete with other members in a variety of miniatures, board games, roleplaying, cards and tabletop games. The group holds weekly events for members to meet up and play and also travels to local conventions in the area. NoVAG holds weekly events in Fairfax, Dale City, Alexandria, Ashburn, Falls Church, Springfield and Arlington.
Astronomy Club
Northern Virginia Astronomy club hosts public viewings in eight observing locations in Loudoun, Fauquier and Fairfax counties. Public viewings are open to families and newcomers, and visitors are welcome to share viewing equipment with members. Membership is $35 annually with an additional $10 per family member.
Archery Club
Northern Virginia Archers is host to seven ranges located beside Fountainhead Park in Fairfax Station and is open to archers of all skill levels from novice to expert. Ranges are open to members only, and members have unlimited access to all seven ranges, two of which have lighting for nighttime use, for an annual membership fee of $120.
Hiking Club
Northern Virginia Hiking Club, which hosts hikes throughout the DMV including Shenandoah National Park, George Washington and Jefferson National Forest, is open to members of all ages and organizes carpools for its members. The club also offers special events that will give members a chance to hike in locations outside the DMV. Membership is $5 annually.
Writers Club
Founded in 2007, Northern Virginia Writers sets out to connect likeminded individuals who wish to share their ideas with others who wish to establish themselves in the writing field. Meetings take place monthly in various libraries across Arlington, Fairfax, Fauquier, Loudoun and Prince William counties and the City of Alexandria. Membership is $30 annually or $15 after July 1.
The Screenwriting & Acting Social Club
Any script writer or actor who wishes to network and receive feedback on their work from the 700-member group is welcome to attend The Screen Writer & Actors Social Club's biweekly meetings in Arlington. Actors in attendance will be invited to perform straight from the writer's pages.
Running Club
Northern Virginia Running Club is a great way for new members to train for an upcoming 5K or just keep company and encourage other members in their training. The club has members of all skill levels and invites people of all ages to run across areas located through the DMV and participate in local races. Membership is $50-$95 for individuals and $75-$140 for families.
Art Club
The Northern Virginia Artists League is a group dedicated to bringing artists together in a community for sharing ideas and inspiring each other to create art of all mediums including photography, watercolors, acrylics and more. The club has had its own art shows and invites members to share their art at these events. Membership is $25 annually.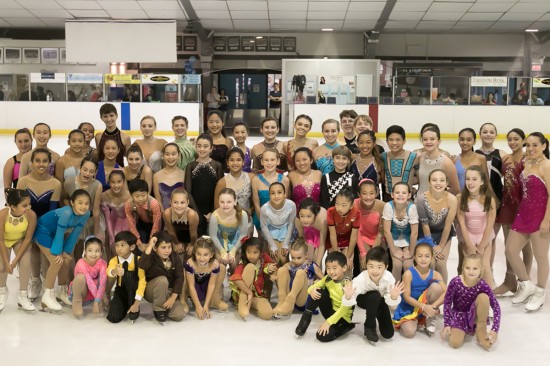 Ice Skating Club
Founded in 1975, The Skating Club of Northern Virginia is committed to serving those in the figure skating community and welcomes families and skaters of all levels. Members will have access to club dinners and banquets, monthly meetings and national competitions. Membership ranges from $17 annually for beginners to $120 for primary home membership.
Beer and Board Games
The group holds three meetings a week in locations scattered around D.C. and Arlington, where attendees will be free to mingle with the group's 4,000 members over their favorite board games and happy hours.
Young Professionals Club
With over 175,000 local members, Things to Do gives members an opportunity to meet and socialize with others at events, which are perfect for personal and professional networking for people of all age groups. Membership is free, but events must be paid for, and prices vary by event.
Northern Virginia Radio Control
With over a 160 members, the family-friendly NVRC has been bringing radio control plane enthusiasts together for over 50 years to share build techniques and partake in fly sessions at Poplar Ford Park in Chantilly and meetings every third Thursday in Fairfax. Membership is $70 for new members, $65 for members 65 and older, and $1 for junior members 19 years and younger. Membership includes access to new the pilot guidebook and in person flight instruction.