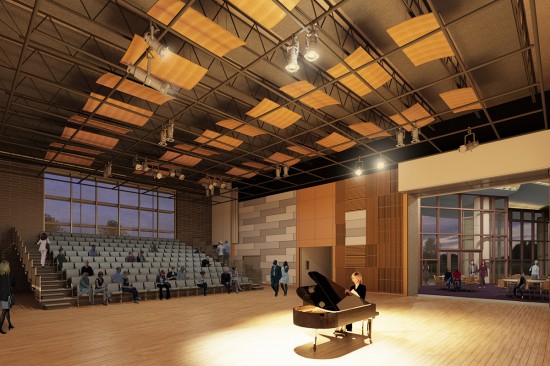 The Hylton Performing Arts Center first opened in 2010 as a staple for the arts in Northern Virginia. Shortly after the opening, with an average of over 600 events ranging from classes and meetings to large-scale production performances held each year, the center found itself having to turn away business because they were always full. The center was not big enough.
"The Hylton Center was initially built with a larger design in mind, but due to the lack of funding, we were only able to complete half of the initial project," says Rick Davis, the Hylton Center executive director and dean of the College of Visual and Performing Arts at George Mason University.
In September, the center broke ground on its $8.6 million expansion project that is expected to double the revenue of the center by opening it up to host more events. The new additions to the center will include a larger rehearsal hall with a stage similar in size to the stage in Merchant Hall, the center's main performance hall, and a smaller rehearsal studio named the Ballard Postma Studio after Hans and Mary Postma of Haymarket, who made a generous donation to the center. Both rehearsal halls will make it easier for artists to rehearse on and transition from one stage to the next.
The new wing, expected to open in 2018, will also feature 10 additional rooms for classes, practices and events and a remodeled lobby that will be big enough to host events on its own. In addition to the $8.6 million, another $1 million will be raised to buy state-of-the-art technology equipment for the new expansion.
"The majority of our funding came from former Virginia Sen. Charles J. Colgan, who was a big supporter of the initial project and helped secure $6 million in donations for the center years after he retired," says Davis. "$2.5 million came from the Hylton family, whom the center was originally named after, and the rest will come from private donations that will be collected over the next two years."
Many of the regular performers housed at the Hylton Performing Arts Center are excited about the new expansion, and Davis plans to book a lot more events such as conferences, performances and meetings to allow the center to reach its full potential and to embrace the artists, students and businesses of NoVA.
"The initial mission for the Hylton Performing Arts Center was to be a creative commons where people could come together intentionally and unintentionally to mingle over the arts," says Davis. "I hope that when the new center opens, people will be inspired all over again. The arts bring people together to share experiences with each other, and it should be celebrated."