By Dana DiSante, Danielle Kent, Stephen Niedzwiecki, Cameron Wall
There is ample proof that the NoVA arts scene is robust and thriving, from theater to music and beyond. We also have a significant creative community of aspiring writers. With November's National Novel Writing Month encouraging those very types to put pen to paper (or, more likely, fingertips to keyboard), here's everything a NoVA scribe should know: where to workshop rough drafts, the best places to make headway on that book and tips from successful local authors.
Where to Hone Your Technique
Meet local writers and hone your writing technique and style at one of these writers' workshops. Then share your work and receive feedback from other Northern Virginians at an open mic night. –DK
Workshops
Writing Techniques for Memoir and Nonfiction
Oct. 29, 1 p.m.
Learn nonfiction writing techniques during food editor and memoir-writing professor Dianne Hennessy King's seminar. // John Marshall Library: 6209 Rose Hill Drive, Alexandria
Teen Writing Club
Nov. 1 & 21, 7 p.m.
All teen writers, from bloggers to poets, are invited to share their work, get feedback and advice and learn about future writing contests at this event. // Warrenton Central Library: 11 Winchester St., Warrenton
Young Writers' Saturday Workshops
Nov. 5 & 12, 9 a.m.
Students choose a topic of their choice and work with instructors to improve their writing. // George Mason University: 4400 University Drive, Fairfax
National Novel Writing Month Write-In
Nov. 6, 13, 20 & 27, 1 p.m.
Meet fellow local writers and improve your writing at this write-in in conjunction with National Novel Writing Month. // 5005 Duke St., Alexandria
Open Mic Nights
Busboys and Poets
Known for its open and artistic environment, Busboys and Poets is a place where writers, poets, musicians and spoken-word artists can share their work in a judgment-free space. Check out Busboys' events page for recurring open mic nights. // 4251 Campbell Ave., Arlington
Jirani Coffeehouse
The Manassas coffee house hosts open mic nights every Thursday at 7:30 p.m. Artists can perform songs, poetry, stories or jokes. // 9425 West St., Manassas
Epicure Café
Musicians, poets and comedians are all welcome to test out new material at one of Epicure Café's recurring open mic nights. // 11104 Lee Highway, Fairfax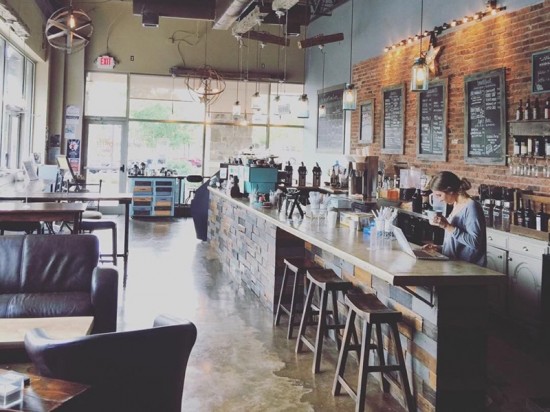 Find Your Muse at These NoVA Coffee Shops
Finding a good place to sit down, focus and write can be tough, so here are coffee shops that offer the perfect environment for productivity and creativity as well as the necessary fuel: coffee and Wi-Fi. Pro tip: Always show your appreciation for the accommodations by purchasing that cup of coffee or pastry. For even more locally owned coffee shops, check out our Coffee Guide. –CW
De Clieu Coffee & Sandwich: This small and cozy shop with free Wi-Fi has been praised as a great place to study and, therefore, a natural fit for writing. // 10389 Main St., Suite B, Fairfax
Java Loco: A friendly environment with free Wi-Fi and an ample amount of seating. // 289 S. Van Dorn St., Alexandria
Jireh Bakery Café: A bakery with seating upstairs and free Wi-Fi creates a nice and usually quiet atmosphere. // 13848 Lee Highway, Centreville
Blend Coffee Bar: A comfy shop with plenty of seating and free Wi-Fi (pictured above). // 43170 Southern Walk Plaza, Suite 120, Ashburn
Improve Your Writing With These Apps
Yep, there's an app for that. –DD
Editing
Ginger: Download this app to double check your spelling and grammar.
Graph Words: This app uses a spider web to connect words through their meanings, offering synonyms and correlating content.
Grammarly: Grammarly helps writers catch common grammatical and spelling errors. 
Hemingway: Hemingway is an online editor that helps users craft direct, concise writing by highlighting sentences that are too wordy or unclear.
Outlining and organizing
Airstory: Launching Oct. 31, Airstory offers writers a place to compile research, drafts and notes.
Draft: This app offers basic tools to merge editor's suggestions, review previous drafts, implement changes and more.
Google Keep: Google Keep integrates notes, voice recordings and lists into one convenient location.
Twords: Twords helps writers stay on top of deadlines by setting benchmark dates to track progress.
Writer's Block
Calmly Writer: Calmly Writer eliminates on-screen distractions, darkening everything except the current paragraph the writer is working on. 
Coffitivity: The Coffitivity app produces a variety of sounds suited to just about any creative process, from coffee shop chatter to busy cafeteria clatter.
Local Authors Share Their Tips
Local poets and authors offer aspiring writers their perspectives on their craft and give tips on how to succeed in the industry. –SN
"You have to be a reader to be a writer; that's how you develop your skills," says Stephen Harding, the author of the New York Times best-seller The Last to Die. "Second, you have to write. You have to sit down and approach it like any other discipline. Sit down in front of your keyboard for an hour every day and write as much as you can. Whether it's good or bad, it's like exercising any muscle."
"Exercise a certain level of tolerance and be respectful. Learn about other cultures and people," says D.C.'s Ethelbert Miller, a poet and author of two memoirs. "Literature plays a vital role in creating culture and what makes us human."
"Be flexible when writing," says Rosemary Groux, author of the Brenwyd Legacy trilogy. "If you can imagine something else happening, play around with it."
"Find a nonfiction book on the topic you're interested in," says historical nonfiction author Eleanor Herman, whose novel Sex With Kings was a New York Times best-seller. "From there, look into the names and sources; those will lead to other lesser-known sources."