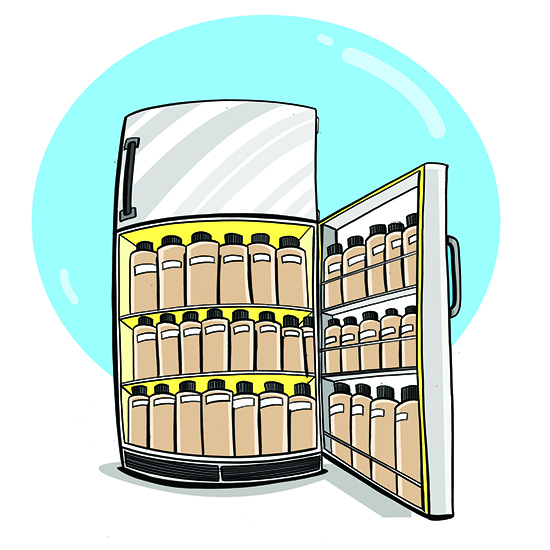 Fad diets have got to be the toughest diets out there.
They're double-layered, you see, with the diet and the fad. So when you're not thinking about the diet and all the things the diet's depriving you of at that very minute, you're thinking about how faddish you're being, and why's that? Oh, right. The deprivation. I mean, diet.
Soylent doesn't market itself as a diet, but of course that's how we're using it. Each bottle of Soylent contains 400 calories and, so they claim, just about exactly the right composition of ingredients to attain an appropriate protein-carb-fat balance. Remarkable! Four hundred calories! A clean third of the minimum amount suggested for women aggressively dieting.
My husband introduced us to Soylent because he's in the military and has a PT test every six months for his job. For a long time, I thought PT test stood for Physical Test test, and if that doesn't make sense to you, then we're in this together. For my husband, PT test, or Physical Training test, prep consists of a quickie crash diet and upping his push-up count by inviting our 2-year-old to koala onto his back while he does push-ups.
The push-up routine is rigid. In the past two years, it has never once changed. If my husband forgets a day, our son's there to remind him. We think of him as a cherubic, giggly little drill sergeant. When my husband walks in from work, my son's primed to launch himself around his neck and not release until a satisfactory number of reps are completed.
Dissimilar to our toddler, the diet has a degree of flexibility. A lot of times my husband goes low-carb, but one can only eat so many eggs, so many stalks of asparagus. Of salted asparagus. Boiled. Broiled. Sun-dried? Meanwhile, Soylent markets aggressively on the internet, and one thing led to another.
A lot of boxes started showing up at our house. Our fridge filled with several dozen clean, sleek-looking white bottles. My husband's waistline slimmed.
Look. I'm a feminist, and I take pride in my body in all its forms. Pregnant, not pregnant, capable of doing no push-ups, capable of doing two and a half. All of them. But those bottles were nutritive and premade. They lived in my refrigerator. And as it turns out, they did not taste the worst. I am not plugging Soylent. But dang if their milkshakes** weren't one bit like the beige paint we were expecting them to be.
Flash forward two weeks, and for whatever reason, this quickie diet wasn't proving as quickie as the others. There was a PT test delay, or act of God. I forgot to cancel the automatic credit-card payments. Who keeps track of these things? The boxes kept coming. White bottles kept cropping up in our fridge. I kept drinking them because they were 1) easy and 2) again, not beige paint. As a mother of young children, I could do worse—and many times have.***
My belt started loosening, too.
Then I had the genius idea of drinking nothing but Soylent for seven days. Just to see. I love my body! But I was lured by that loose belt. I don't know. The beige paint must have gone to my head.
Time, as they say, is an instrument of pressure.
As soon as I made the decision to commit to the Soylent, to tether myself to it, those seven days stretched before me like seven Arabian Desert sand dunes. Suddenly I felt extremely hungry and tired. A little thirsty. Was there even water in these things?! All I could think about were the minutes ticking by, ticking me away from my morning Soylent, then ticking me to my lunch one. And I hadn't even finished the morning one yet. Like I said, I didn't get far.
The longest I've ever crash-dieted was for four days with the 18-in-4, with which you're supposed to lose 18 pounds in—yes, you've guessed it. I did it because my sister was doing it. My sister who's a doctor. Who trained to be a doctor in New York City. I can't let her win at everything! In some very small, inconsequential ways, we must tie.
Now I've written about the 18-in-4 before, because when I did it, it gave me appendicitis. My doctor says nothing can "give" you appendicitis, including the 18-in-4, or as I sometimes call it, the 18-in-4-and-3, which is the number of scars I have from the surgery I underwent to remove one of my organs not 24 hours after I completed the 18-in-4.
That diet, which I do not recommend, is essentially every diet boiled down to its bullet points: a lineup of low-calorie foods you're tricked into thinking have special powers because of their assortment and combinations but at the end of the day are just a bunch of low-calorie foods. "No substitutes whatsoever," reads the first line of the 18-in-4 email forwarded to me. "Don't bother asking." Don't bother asking! Whoever thought up eating half-cups of diced tomatoes and celery for four consecutive days must really know their stuff. And more fool you to challenge anything written in an email forward.
I know what you're wondering here: Will eating half-cups of diced tomatoes and celery for four days result in my losing 18 pounds? The answer is no. Still curious? There's a lot of prune juice at the end. And still no.
Soylent, I told myself, would be nothing like that. And it wasn't because I couldn't hack it.
My husband's off Soylent now, too. He realized how expensive it was and made the switch to the powdered stuff, which you mix yourself and tastes worse than the liquid. It was enough. We called the whole thing off.
Soylent hasn't come to grips with it yet and is still targeting us with ads on our social-media accounts. They're kind of sad, like an unanswered string of text messages sent too late in the night. As an ex-diet, though, Soylent shows no shame: Its latest pitch is a coffee/breakfast hybrid drink. Its makers are calling it Coffiest, which is like calling a pet Puppy Dog. Isn't it funny, the way your exes seem so much worse after you've moved on? It's like you can't believe you were ever with them in the first place.
For my part, I blame the government. We wouldn't have gotten ourselves into this mess if my husband weren't in the military and susceptible to silly claims from our Silver Spring friends up the road, the headquarters for the FDA. Soylent is FDA-approved, and I haven't fact-checked this, but I'm going to hazard a guess that the 18-in-4 is not.
So if after reading all this you still want to try it, still can't shake the sloppy, sloshing siren song of all that beige paint, I can't stop you. The government can't stop you. No take-backs, FDA!**** In fact, you're welcome to ours. We have two cement bags of it sitting in our cupboard that are going to rot there till I lug them out to the curb or someone comes to lay claim.
Just don't come crying to me if it's not all it's cracked up to be.
No take-backs.
**Soylent is not a producer of milkshakes.
***Leftover pizza. Leftover baby food. Leftover pizza that we forgot to refrigerate and that got dried out overnight—to rehydrate it we dipped it in leftover baby food, which cancels out E. coli, and that's science.
****The FDA is disproportionately prone to take-backs.