By Dana DiSante, Danielle Kent, Stephen Niedzwiecki, Cameron Wall
As the weather cools off, you might want to head indoors, but that doesn't mean you can't still go out. Theaters across the DMV have packed fall and winter seasons ahead, so you can escape the house into theaters presenting titles both classic and original. Below, check out musicals, mysteries, ballet and more performances arriving in town in the coming months.
Musicals
Local theaters put on musical performances of classic and iconic stories. –SN
Freaky Friday
Oct. 4-Nov. 20
Signature Theatre will put a musical spin on the novel and Disney movie of the same name that tells the story of a teenage daughter and her mother who magically switch bodies and gain an understanding about each other and what it means to be a family. // Signature Theatre: The Village at Shirlington, 4200 Campbell Ave., Arlington
A Christmas Story: The Musical
Nov. 16-Dec. 31
All 9-year-old Ralphie Parker wants for Christmas is a Red Ryder BB gun. To his dismay, Ralphie is repeatedly told, by his mother, teacher and even Santa, "You'll shoot your eye out!" Nevertheless, Ralphie still hopes to be surprised on the big day in this musical rendition of the classic Christmas movie. // Riverside Center: 95 Riverside Parkway, Fredericksburg
Anything Goes
Jan. 4-Feb. 14
Little Theatre of Alexandria will tackle an adaptation of Guy Bolton and P.G. Wodehouse's novel, which follows Billy Crocker as he finds himself lovestruck by Hope Harcourt on a cruise liner traveling to England—with her fiancé aboard the ship, too. With the help of a colorful cast of passengers, Billy learns to sing and dance in an attempt to capture Hope's affections. // Little Theatre of Alexandria: 600 Wolfe St., Alexandria
Carousel
Oct. 28-Dec. 24
The rebellious Billy Bigelow causes strife in his relationship with Julie Jordan when his thoughtless actions cause them both to lose their jobs. Billy will arrive at Arena Stage in October and receive a second chance to make things right. // Arena Stage: 1101 Sixth St. SW, Washington, D.C.
Caroline, or Change
Jan. 25-Feb. 26
Centered around a maid named Caroline who works for an upper-class family during the Civil Rights movement, this production follows the titular character as she befriends the family's young son, Noah, who recently lost his mother. When Caroline is accused of stealing from the family, tensions rise and the new friendship is tested. // Roundhouse Theatre: 4545 East-West Highway, Bethesda, MD
Murder Mysteries
As Halloween approaches, these captivating, suspense-filled murder mysteries will put you on the edge of your seat. –DK
The Little Foxes
Sept. 23-Oct. 30
An innocent sibling rivalry turns sour as a sister reaches her breaking point in The Little Foxes. The devious mystery is led by Emmy Award-winner Marg Helgenberger from CSI: Crime Scene Investigation. // Arena Stage: 1101 Sixth St. SW, Washington, D.C.
A Party to Murder
Oct. 22-Nov. 12
Indulge your senses as you experience a night of rising tensions, suspicion and excitement at A Party to Murder. The 25-year-old murder mystery promises a surprise twist ending that will leave you wanting more. // Little Theatre of Alexandria: 600 Wolfe St., Alexandria
Trick or Treat Murder Mystery
Oct. 30, 11:30 a.m.
Three of the greatest magicians of our time gather under one roof for a spectacular performance. Keep an eye out as the captivating tricks turn dangerous and the delicious treats turn threatening because only you can prevent the biggest trick of the night: murder. // Salamander Resort & Spa: 500 N. Pendleton St., Middleburg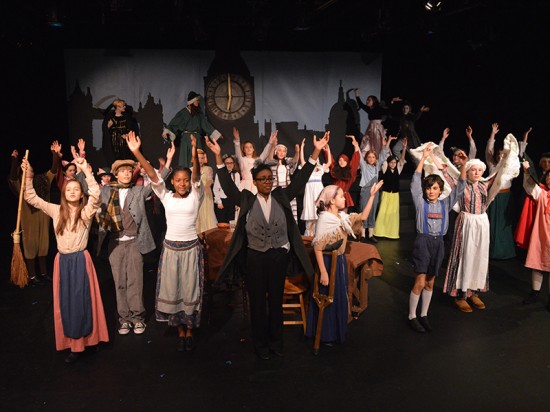 Kid-Friendly Plays
Take the entire family to the theater for one of these kid-friendly titles. –DD
Creative Cauldron
410 S. Maple Ave., Falls Church
Oliver Twist: Nov. 4-20
McLean Community Center/The Alden
1234 Ingleside Avenue, McLean 
The Man Who Planted Trees: Oct. 15
Mount Vernon Community Children's Theatre
1900 Elkin St., Alexandria 
Disney's The Little Mermaid: Nov. 11-13, 18-20
NextStop Theatre Company
269 Sunset Park Drive, Herndon
The Giver: Feb. 25-26, March 4-5, 11-12
Northern Virginia Players
7719 Fullerton Road, Springfield
Annie: Nov. 4-5, 11-12
Rosslyn Spectrum Theatre
1611 N. Kent St., LL Level, Arlington
Children's Theater Festival: Jan. 16
Performances for the Holidays
­­This year, the holiday season will be celebrated with classic renditions of seasonal favorites like Frankenstein, The Nutcracker, A Christmas Carol and more. –DD
Encore Stage and Studio
Thomas Jefferson Community Theatre: 125 S. Old Glebe Road, Arlington
The Best Haunted House Ever: Oct. 14-23
A Fairy Tale Christmas Carol: Dec. 2-4
Hylton Performing Arts Center
George Mason University's Science and Technology Campus: 10960 George Mason Circle, Manassas
Frankenstein: Oct. 21-23
The Nutcracker: Nov. 26, Dec. 16-23
Christmas Through Time: Dec. 3
The Center for the Arts
9419 Battle St., Manassas
A Christmas Carol: Nov. 26-27, Dec. 2-11
Creative Cauldron
410 S. Maple Ave., Falls Church
A Christmas Carol Memory: Dec. 1-20
StageCoach Theatre Company
44121 Harry Byrd Highway Suite 240, Ashburn 
Barnyard Christmas: Dec. 10-11, 17-18, 22-23
The Alden
1234 Ingleside Ave., McLean
Fancy Nancy Splendiferous Christmas: Dec. 11
Virginia Ballet Company and School
Ernst Community Cultural Center: 5595 Guinea Road, Fairfax
The Nutcracker: Dec. 27-29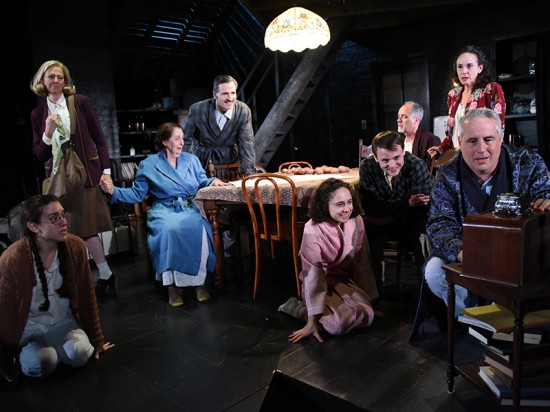 Even More Plays Coming Up This Season
From literary classics to topical election-inspired comedies, here are more big titles coming to a theater near you. –CW
Sense & Sensibility
Sept. 13-Oct. 30
Based on Jane Austen's book of the same name, this classic-turned-play is a story of sisterhood and love. The Dashwood sisters arrive in a new and distant place and become entangled in romance there. // Folger Shakespeare Library: 201 E. Capitol St. SE, Washington, D.C.
The Gulf
Sept. 13-Nov. 6
Written by D.C. playwright Audrey Cefaly, this comedic tale of a fishing trip in the Alabama Delta gone awry captures the faltering relationship problems of Betty and Kendra. // Signature Theatre: 4200 Campbell Ave., Arlington
The Diary of Anne Frank
Sept. 14-Oct. 23
Centered on the life of the iconic figure of potential lost to horrific tragedy, the play tells the story of Anne Frank and her family as they hid in Amsterdam during World War II. // Olney Theatre Center: 2001 Olney-Sandy Spring Road, Olney, MD
Dante's Inferno
Sept. 28-Oct. 30
Based on the first book of Dante's epic poem Divine Comedy, this wordless, dramatic interpretation of the descent into hell takes the audience along on the character's journey. // Synetic Theater: 1800 S. Bell St., Arlington
The Curious Incident of the Dog in the Night-Time
Oct. 5-23
In this show based on the best-selling novel, a boy with Asperger's syndrome discovers his neighbor's dead dog and, after being accused of being the killer, must discover what happened to the dog. The critically acclaimed and Tony Award-winning play is one of the most popular titles to come off Broadway in the past decade. // John F. Kennedy Center: 2700 F St. NW, Washington, D.C.
The Complete History of America (abridged): Election Edition!
Oct. 28, 8 p.m.
The Reduced Shakespeare Company is back with this one-night performance of its three-man comedy skit The Complete History of America (abridged), but this time it's the Election Edition! Watch as the company tackles 600 years of American history in only 90 minutes, parodying everyone from Lincoln to Lewis and Clark, plus our contemporary presidential candidates. // Hylton Performing Arts Center: 10960 George Mason Circle, Manassas