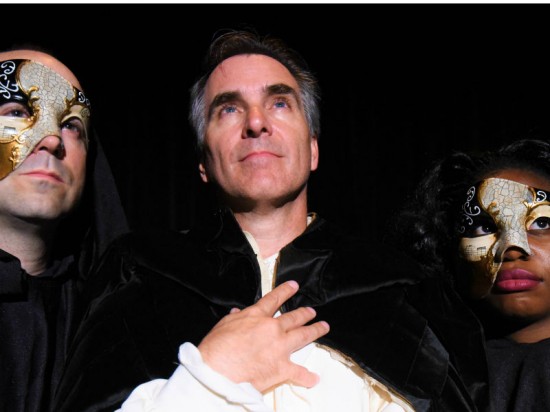 Amadeus tells the fictional story of Wolfgang Amadeus Mozart's rise and demise at the hands of Antonio Salieri, as told from Salieri's perspective. The original play, written by Sir Peter Shaffer, focuses on the contentious relationship between Mozart and Salieri while trying to address the long-standing conspiracy: Did Salieri kill Mozart?
The Providence Players of Fairfax hope to captivate audiences with their inventive interpretation of the psychological mystery this October. "My vision is to stay true to the original script while enhancing the musical experience through the integration of live music," director Julie Janson says.
Janson, making her directorial debut with the Providence Players, wants to honor the late Shaffer with a production worthy of his greatest work. "When you see plays by Chekhov and Shakespeare, you can place them anywhere anytime and they're still successful works," she says. "I want to show audiences that it doesn't always have to be set in this time period or place because the overall story, despite being about real people, is timeless."
Janson's plan is to focus on Shaffer's story and Mozart's music by downplaying the lavish visuals of the 18th-century costumes and set designs used in the original play. The main reason for this was that she had never seen the play live; she read the script in a local library without any knowledge of the original production and thought that the story was more important than the visuals. "We could perform this in a black box studio, and because the actors' performances and the script itself are so incredible, the story would still resonate with the audience," she says.
By simplifying the visuals with less elaborate backdrops and costumes, Janson hopes that people will look at this story and think about where they are in their lives and what direction they are going in. "The show is all about whether or not you have a passion and [if] you [are] actively pursuing it," Janson says.
By highlighting the fierce and entertaining dialogue along with the complexity of the story itself and its main characters, Janson hopes that everyone will not only remember the amazing story but contemplate the two central themes of this play: need and time. "I want the audience to leave thinking about what it is that they need and how does time affect that," she says.
Amadeus will open on Sept. 30 and run until Oct. 15 at the James Lee Community Center Theater.