By Savannah Behrmann, Koo Hwangbo, Juliane Kim, Katherine Rohloff
The NFL preseason is just kicking off, and the Redskins will play their first game Aug. 11 against the Atlanta Falcons. The regular season then commences at the beginning of September, at which time football watch parties will be in full swing. Perfect yours with the right food and beer.

Key games to watch
The sight of the gridiron. The sound of clashing shoulder pads. The deafening singing of "Hail to the Redskins." You've missed it, and so have we. The Redskins' season is about to kick off, and "you like that." Here are some key matchups to watch this season. –KH 
Sept. 12 vs. Pittsburgh Steelers: The Redskins' regular season begins on Monday, Sept. 12, against the Pittsburgh Steelers on home turf at FedEx Field. During the primetime game, the Redskins will have to answer some off-season questions: Can Kirk Cousins continue his extraordinary play from last year? Will the absence of Alfred Morris, starting running back for the past four years, prove to be a detriment in the run game? How much will the addition of cornerback Josh Norman improve the defense? Fans will also get a chance to see the rookies play for the first time and see how crucial players like Josh Doctson and Su'a Cravens can be. And the Steelers, with star players like Ben Roethlisberger and Antonio Brown, possess one of the most dangerous offenses in the NFL.
Nov. 20 vs. Green Bay Packers: This will be a rematch of last season's NFC Wild Card matchup, in which the Redskins suffered a devastating 35-18 loss. Now, the Redskins will seek redemption as the Packers return to Landover led by star quarterback Aaron Rodgers.
Nov. 24 vs. the Dallas Cowboys: With a quick turnaround from the week 11 game against the Packers, the Redskins will play the Dallas Cowboys on Thanksgiving Day. Watch this matchup surrounded by family and a feast as the team faces its biggest rival in the NFC East at Dallas. This season, the Cowboys could prove to be huge threat and playoff contender if Tony Romo and Dez Bryant can stay healthy. The Cowboys will also possess a threatening run game with one of the best offensive lines in the game, big-name rookie Ezekiel Elliott and former Redskins running back Alfred Morris. This game could have serious playoff implications as the Cowboys try to dethrone the Redskins as champions of the division.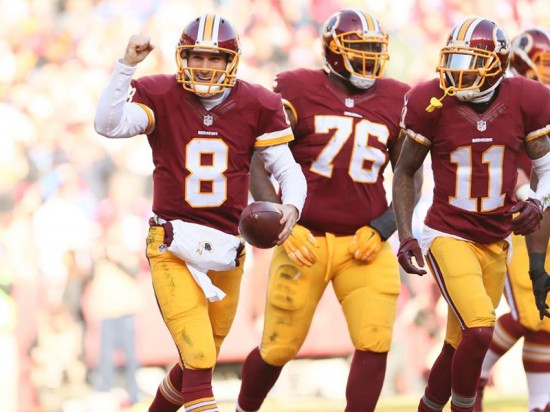 Takeout for the touchdown
Usually football season means digging into the biggest plate of ribs, the largest slices of pizza or bottomless platters of chicken wings. But this year, try ringing in the new football season with nontraditional finger foods from local takeout restaurants. –KR
MELT Gourmet Cheeseburgers: Score an Immaculate Reception of your own and order your football munchies from MELT's Gourmet Cheeseburgers. Perfect for burger connoisseurs, you can sink your teeth into one of Melt's fan-favorites like the Ahi tuna burger, the Caprese burger or the Greek lamb burger and discover why their cheeseburgers are ranked among Virginia's best by Thrillist. All burger buns are made in-house, helping MELT earn the title "Loudoun's Best Burger" since 2012. Order your game-winning takeout by calling 703-443-2105. // Bellewood Commons: 525 E Market St., Suite J, Leesburg
Ford's Fish Shack: Earn the Lombardi Trophy of takeout by bringing Ford's Fish Shack to your next Redskins party. Order the half rack of ribs and lobster tail, fish tacos or the Washington Post's 2013 Top 40 Dish: the fish and chips. You can order for pickup online from the Ashburn location, or you can ask for catering from either Chantilly or Ashburn by filling out a form online or calling Chantilly at 703-542-7500 or Ashburn at 571-918-4092. // 44260 Ice Rink Plaza, Suite 101, Ashburn; 25031 Riding Plaza, Suite 150, Chantilly
Forbidden City Express: Snap from chicken wings to Chinese and score a touchdown by ordering takeout from Forbidden City Express. As a family-owned and -operated restaurant for over 30 years, it specializes in Hunan, Szechuan and Mandarin cuisine. Get a punch of hot wings spice and try the shredded beef in garlic sauce, opt for the tried-and-true General Tso's chicken, or split the Mandarin family basket with your game-watching buddies. Order your food either over the phone at 703-821-9000 or online for pickup or delivery. Forbidden City delivers within a 3-mile radius of the restaurant. // 6732 Curran St., McLean
A who's who of NoVA wings
Watching football is pretty much synonymous with eating wings. This football season, instead of going for the classic Buffalo wings, try these local restaurants with unique recipes that provide just the right flavors and heat. –JK
Bon Chon: Bon Chon makes Korean-style double-fried wings known for their extreme crunch and tangy, savory sauces. Wings come in either soy garlic, spicy or a combination sauce. With locations in Arlington, Centreville, Fairfax, Fredericksburg, Leesburg and Woodbridge—many of which offer takeout—Bon Chon is also a convenient option for your watch party. // Multiple locations across Northern Virginia
Mum Mum Restaurant: Mum Mum Restaurant is a Thai restaurant that, of course, offers pad thai and tom yum soup, but it also serves up great wings. The Mums Wings are a Thai take on chicken wings with the right amount of spice. The Manassas restaurant offers both delivery and pickup. // 10945 George Mason Circle, Manassas, 571-208-0264
Caribbean Plate: With classic Caribbean dishes like curry goat, oxtails and jerk chicken, Caribbean Plate is a great place to go to satiate cravings for rich island flavors. The authentic Jamaican jerk chicken wings will transport your football viewing party to a tropical beach—no matter what the scoreboard looks like. Takeout is available. // 133 E Annandale Road, Falls Church, 703-942-8580
Bungalow Sports Grill: For less spicy, more American-style wings, Bungalow's Wild Wings are a classic Buffalo recipe. Bungalow also offers a combo with barbecue ribs and wings to give your friends and fellow Redskins fans a couple of options. Delivery isn't available, but you can order takeout. // 7003-C Manchester Blvd, Alexandria, 703-942-8580
Score big with healthy sides and dishes
Football season is upon us, and every year, screaming at the television during Redskins games seemingly goes hand-in-hand with munching on cheese dip, chicken wings and nachos. Caught up in the excitement, we may not realize all of the calories and unhealthy ingredients we're consuming. This football season, replace the junk food with some healthier, but just as delicious, options. –SB
Replace french fries with sweet potato fries. Bursting with potassium and magnesium, sweet potato fries can be baked in the oven instead of the deep-fried carbs you're used to downing during the big game. [Recipe]
Instead of a cheese-heavy dip with potato chips, make a healthy hummus dip with pita chips. Or, whip up an addictive spinach-artichoke dip. [Hummus recipe, spinach-artichoke recipe]
With the arrival of football season, you will undoubtedly notice a lot more invites to cookouts with hamburgers and hot dogs. For a lower-calorie meat option, try turkey burgers and hot dogs instead. Serve them on a whole-wheat bun and then top the meal off with fresh vegetables. [Recipe]
Finally, for dessert, instead of cookies and brownies, serve a platter of chocolate-covered strawberries—you can even decorate them with icing to look like mini footballs. [Recipe]
Beers to bring to the big game
Football season, for many, means beer. And autumn, for many beer drinkers, means traditional German lagers and pumpkin-infused brews. Opt for one of these NoVA-based brewery's six-packs, and you'll be the MVP of the party. –KH
Port City Brewing Company's Oktoberfest: If you're seeking a fall-appropriate beer sans pumpkin flavor, look no further than the Alexandria brewery's award-winning Marzen-style lager.
Lost Rhino Brewing Company's Rhin O' fest: For another rich, traditional German Marzen, Lost Rhino's Rhin O' fest is perfect for both autumn weather and football season—and six-packs are available beginning in August.
Heritage Brewing Company's Bradford Ale: If you are looking for a seasonally appropriate pumpkin ale—but with a twist—try this Heritage Brewing Company brown ale fermented with organic pumpkin, spices and bourbon-soaked cinnamon sticks that perfectly encapsulates the fall season.