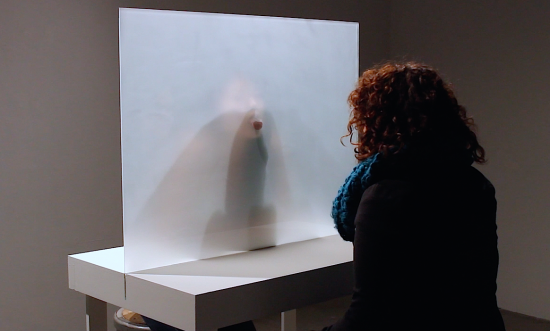 By Sophie Reardon
Interactive art is certainly not a new concept, but a new exhibit at the Torpedo Factory takes that engagement to a whole new level. At Please Touch, which runs from June 4 to July 17, visitors can lick, touch and dine upon the artwork.
Cynthia Connolly, the exhibit's juror and Arlington County's special projects curator, chose 20 pieces by 16 national and international artists to be displayed. Connolly, an internationally shown and reviewed artist, graduated from the Corcoran College of Art and Design and Auburn University's Rural Studio and is now a photographer, curator, letterpress printer and artist living in Arlington. Her artwork is in the J. Paul Getty Museum, the Smithsonian Museum of American History and the Corcoran Gallery of Art.
It took Connolly a few days to look at photographs of the submissions and decide what should be included in Please Touch. When making her selections, Connolly wanted to represent an array of different materials while avoiding pieces that viewers would ordinarily be able to touch. For example, she turned down a submission featuring a small handmade book.
Connolly did, however, select artist Colleen Ludwig's Pod Field, which triggers bamboo chimes when viewers' legs brush against the wooden forms of the piece as they walk through the room. As the room fills with more people, more chimes ring and evoke the sound of insects in nature.
"We really wanted it to be a fully immersive experience for the viewers," Kaitlyn Ward, director of the Target Gallery, says. "So it's different [from past exhibits] in that every single piece in the gallery you have the opportunity to engage with, which I think is really interesting and important. It's very hands-on."
Project Share, by Jenifer Hansen Gard, allows the viewer to borrow one of the ceramic dishes she created for a meal with a stranger at the exhibit. Participants have the option to choose someone or to have the gallery choose for them. As a result, Gard's work serves as a social project that not only encourages engagement with the art but also interaction with others in attendance.
Fumi Amano's work, Look at Me, also requires viewer participation. One person sits on one side of a frosted pane of glass and licks the pane, revealing the face of the person seated on the other side. (Ward assures the glass will be cleaned between licks.) Amano's piece mimics her personal desire to break down cultural barriers, specifically her struggle to connect with Americans as a Japanese immigrant living in Richmond.
As kids, we are taught not to touch artwork, Connolly says, but this exhibit allows viewers to break the rules. It's all about the personal experience. Touching the art, she believes, is both liberating and uncomfortable.
After visiting Please Touch, Ward hopes viewers will have a better understanding of how artists create their work. She also hopes they will be more confident about contemporary art, which can seem intimidating.
"I'd like people to walk away feeling more confident to ask questions when they go into a contemporary art gallery and to have a better understanding of what the artist wants you to experience when you look at their work and when you engage with their work," she says. "And that not all contemporary work has to be conceptual or confusing. It can be simple, and you can enjoy it in certain ways."