Editor's Note: Somehow a Las Vegas Elvis impersonator landed in NoVA and now sells barbecue from truck. (And check out these other tales from the pit—Jules BBQ and GK's BBQ—from our Barbecue issue.) – Stefanie Gans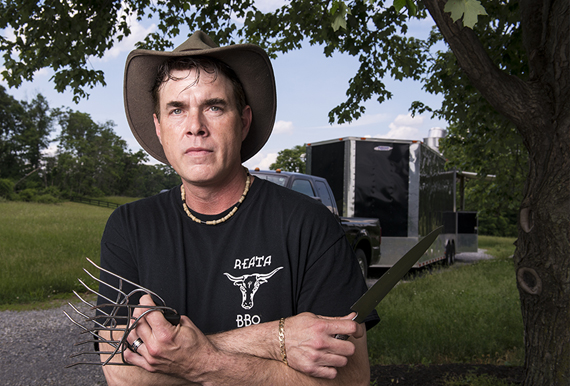 Photography by Robert Merhaut
TALES FROM THE PIT
Damon Ross of Reata BBQ
BY CORBO ENG
THE KING
In Texas, there's a saying that brisket is king. Beef, not pork, defines barbecue in the state and is esteemed above all else.
"That's my heritage," says Damon Ross, a native of Dallas-Fort Worth and owner and pitmaster of the food truck Reata BBQ.
But before Ross would make brisket his profession, he dabbled with another king.
From 1989 through 1992, Ross impersonated Elvis Presley at the MGM Grand Hotel in Las Vegas. He performed a nightly show with all the hits from "Hound Dog" to "Suspicious Minds," and with his dark hair and youthful good looks intact, one can still readily imagine Ross swinging his hips in a sequined jumpsuit.
"I started impersonating Elvis when I was 13," Ross says. "Early on, I performed at bowling alleys, shopping centers and state fairs." Johnny Harra, the legendary Elvis impersonator who popularized such homages to the King and who portrayed Elvis on film, discovered Ross himself and took him under his wing.
After studying as a theater major, Ross headed to the Vegas stage before the ink was even dry on his diploma.
"I didn't want to be Elvis forever," says Ross. He moved into IT, which was taking off just as Ross' Elvis phase ran its course. During the day he worked as programmer; at night he curled his lips to "All Shook Up."
Thirteen years ago, right after Sept. 11, it was Ross' computer savvy that led him from Texas to Northern Virginia when he took a short-term project with the TSA to set up a personnel management system when the agency was federalizing airport security staff.
Ross ended up staying in Northern Virginia running the same software applications as a government contractor. "It became like the movie 'Groundhog Day,'" he says. That's when he thought about getting into the barbecue business.
"I wanted to do this ultimately … because I came out here and I couldn't find Texas barbecue," he says. "I wanted my barbecue. And I thought, 'If I can't find it, I'm just going to have to make it myself.'" In 2013 Ross cashed out his stocks to purchase a mobile concession trailer.
It was a move that harkened back to this barbecue roots, when, as a boy, Ross and his father were immersed in Texas barbecue culture. At age 8, Ross and his dad entered annual chili competitions. Every year, they found themselves at Trader's Village in Grand Prairie.
"Trader's Village was like the Disneyland of flea markets," says Ross. "There was a three-day event where there'd be a beauty contest, a quail egg eating contest and a chili contest in the back by the rodeo yards. The winner would get a toilet seat with 'Chili Cook-Off' written on it."
Ross eventually was the victor, but it didn't happen until he was 19 years old—after his dad had already passed away.
Ross claims the North-Central style of Texas barbecue: "We're about the smoke and then the dry rub," he says, listing salt, pepper, ground dried chilies and paprika as key ingredients. But it's the wood that's more important.
He uses mesquite, the famed wood native to the Southwest, which he has trucked in from Texas. Ross would be remiss to do without the distinctive smoke and bold flavor mesquite imparts. "Beef can handle it," he says.
The brisket process takes almost 24 hours. First, the brisket is smoked for 17 hours at 225 degrees. Then, the meat is braised for an additional six hours. This involves wrapping it in foil and smoking it further after it's been moistened—usually with a beer from whatever brewery where Ross sets up his mobile kitchen.
Once ready to be served—following Texas tradition—saucing the brisket is unnecessary. "If it needs sauce, I've done something wrong," says Ross. "It's like having a really good French fry. You don't need ketchup."
On most weekends, Ross' mobile kitchen is parked at the Old 690 Brewing Company just north of Purcellville, a site Ross regards as a kind of home base. Visitors sit underneath the shaded veranda, sample craft beers and indulge in Ross' brisket, pulled pork, ribs and smoked chicken, the latter of which sits in a citrus brine for eight hours.
Ross' wife and partner in barbecue, Lee Anne, mans the window, taking orders and sharing their Texas stance on sauces.
"We have a lot of people from Texas who have moved out here," Ross says. "And they say, 'You guys have it going on. This is Texas.'" Ross says. "That's the most gratifying thing."
Get it: Reata BBQ
Menu highlights: brisket, ribs, pulled pork and smoked chicken
Often found on weekends at Old 690 Brewing Company, 15670 Ashbury Church Road, Purcellville and Old Ox Brewery, 44652 Guilford Drive, Ashburn
(July 2015)